Finding God and Grace in Les Misérables
Debbie Holloway, Assistant Editor, Crosswalk.com
Wednesday, December 19, 2012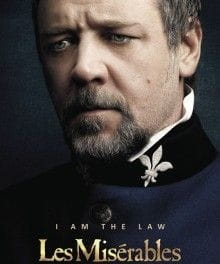 However, Valjean is unused to grace and does not recognize it. All he knows is that he is unable to find work and sees no way out of his desperate situation. During the night he rises in a panic, collects all the valuable silver he can find within the house, and flees. He is apprehended by the police, however, and returned to the Bishop, whom they expect to serve as a witness to his blatant crime.
To the astonishment of the policemen, and Valjean, the Bishop instead tells the officer that he gave Valjean the silver, and reproaches Valjean for forgetting "the best" – a pair of large silver candlesticks from the dinner table. He thanks the policemen for being so vigilant, but insists their services are no longer needed and dismisses them.
Valjean, utterly speechless, can only listen as the Bishop gently sings:
"And remember this, my brother; see in this some higher plan.
You must use this precious silver to become an honest man.
By the witness of the martyrs, by the passion and the blood,
God has raised you out of darkness. I have bought your soul for God."
The message of this refrain sticks with Valjean throughout the rest of the film (as do the symbolic candlesticks). As Hooper explains it, "Through that contact with the Bishop, [Valjean] learns to have compassion and faith." Even beyond that, however, the Bishop speaks grace into Valjean's life for the first time. As Valjean interacts with various other characters, including his nemesis Inspector Javert, he never forgets the lesson the Bishop taught him:
Sometimes people live in darkness, a terrible darkness of poverty, ignorance, and injustice. Forgiveness and selflessness are often the greatest ways we can lift such people out of that darkness and show them the true nature of Christ. Valjean uses his faith and trust in God to propel him to extend this selflessness, this grace, to so many who cross his path. He emerges from hiding to acquit an innocent man mistaken for himself, whom Javert had found and planned to prosecute. He cares for the dying prostitute Fantine (Anne Hathaway, The Dark Knight Rises) and, upon her death, rescues and adopts her daughter. Even when faced with an opportunity to extract vengeance upon Javert (who has been hounding him for twenty years), he chooses the path of grace.
Yet Valjean never comes to live a simple life; his days are always overshadowed by the memory of his own faults and sins. Near the end of the film, as a much older Valjean prepares to die, he is comforted by the ghost of long-dead Fantine.
"Remember the truth that once was spoken:
To love another person is to see the face of God."
She comforts him because now, now faced with eternity, he still regrets his many transgressions and begs forgiveness of God. Fantine's lyric is beautifully reminiscent of one of Christ's most famous sayings:
"Teacher, which is the greatest commandment in the Law?"
Jesus replied: "'Love the Lord your God with all your heart and with all your soul and with all your mind.' This is the first and greatest commandment. And the second is like it: 'Love your neighbor as yourself.' All the Law and the Prophets hang on these two commandments" (Matthew 22:36-40).
The lesson of grace to be learned from Les Misérables is a simple one: The Law cannot save us, for The Law serves brokenly in a broken world. Extending God's grace, however, can illuminate and transform. Loving God, and loving those whom God has placed in our lives, is the closest thing to seeing God that we can have this side of eternity.
Debbie Wright is Assistant Editor for Family Content at Crosswalk. She lives in Glen Allen, Virginia and is an avid writer, reader, and participant in local community theatre.
Publication date: December 19, 2012
Recently on Movie Features
Have something to say about this article? Leave your comment via Facebook below!
advertise with us
Example: "Gen 1:1" "John 3" "Moses" "trust"
Advanced Search
Listen to Your Favorite Pastors