From Page to Screen: "Bridge to Terabithia"
Annabelle Robertson, Entertainment Critic
Wednesday, February 14, 2007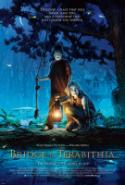 "Imagination will often carry us to worlds that never were," wrote the American astronomer and astrobiologist Carl Sagan. "But without it we go nowhere."
Katherine Paterson understood that. The celebrated children's author won a Newberry Award by writing about the power of the imagination. "Bridge to Terabithia," which was first published in 1978 to widespread acclaim, joined the ranks of classic literature, in fact, and transformed Paterson into one of the most beloved children's authors of our time. Now, the dog-eared favorite is hitting the big screen as well, with a contemporary incarnation.
Written for Paterson's son David, "Bridge to Terabithia" tells the story of Jess Aarons (played by Josh Hutcherson, "RV," "Zathura"), a kid who is trying to fit in by becoming the fastest runner in school. To Jess's frustration, he's beaten by a newcomer – who also happens to be a girl.
Unlike Jess, Leslie Burke (AnnaSophia Robb, "Charlie and the Chocolate Factory," "Because of Winn-Dixie") has it all. She's wealthy, smart and quick on her feet. But when Leslie takes Jess across a stream, introducing him to an imaginary land of kings, queens, giants and ogres, Jess realizes that he's found a true friend. Not only that, but the game they both love will also teach them some very important truths about life.
I talked to Paterson, a former missionary and the wife of a retired Methodist minister, about watching her book being made into a movie, and how she got her start as a writer. Here's what she had to say:
How do you feel about your book becoming a film, especially after all these years?
Honestly, when I first wrote the novel, I never really knew if anyone whose name wasn't Paterson would understand it and I never dreamed it would take on the life, even beyond books, that it has. It's a magical thing that has happened, perhaps because it is the kind of story that opens itself up for people to bring their own lives to it, in a powerful way, so that the story becomes their story.
You've also published two books of angel stories which were written after your husband wanted to read one to his congregation on Christmas Eve, but couldn't find anything suitable. Were the angel stories your first foray into writing?
Well, I hadn't published any fiction when I started writing those stories. I had done one book for the Presbyterian Church, a story for 4th and 5th graders. But I liked to write, so I decided to write. I published one story for a little Roman Catholic magazine, but for seven years it was pretty dry. Then my first novel was published. But it was seven years of writing [before I was published]. And the reading – I was always a reader. That was the main thing, I think.
Why did you decide to write for young adults?
Well, I didn't know what I was writing. Nobody had given me a course in writing. I had been a missionary in Japan and felt very confident about setting a story there. It was a bit like going back to Japan. So I wrote my first three novels. Also, I didn't make that conscious decision. Those seven years when I was writing but not publishing, I was doing all sorts of things – fiction, non-fiction, poems, articles. So this friend in Maryland decided to take me on as her good work. She brought me to a writing class, a Mom's night out. They were offering a course in writing for children, which I decided to go [to]. And I began to write for them. I was writing almost a story a week, and figured that I could write a chapter a week instead. And that's how I wrote my first novel. It only had 14 chapters, but it was the discipline of having to write something on a regular basis.
Recently on Movie Features
Have something to say about this article? Leave your comment via Facebook below!
advertise with us
Example: "Gen 1:1" "John 3" "Moses" "trust"
Advanced Search
Listen to Your Favorite Pastors