From Page to Screen: "Bridge to Terabithia"
Annabelle Robertson, Entertainment Critic
Wednesday, February 14, 2007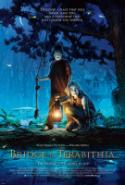 Like the angel stories, year after year.
You know, it's a funny thing about those stories. I thought I would send them to my own denominational publisher, but they said, "Nobody wants stories about angels."
No kidding! Because they went on to become a huge success.
Yes. But I think Christian publishers are scared of fiction. The imagination can go into unorthodox paths, you know. I finally showed them to my publisher and she said she wanted to publish them.
How many children do you have, and how did you combine your writing with their schedules and the demands of being a pastor's wife?
Two adopted children (by choice) and two children by birth. You don't wait for inspiration when you have small children, though. You just do it!
Clearly, however, you were inspired to write "Bridge to Terabithia." How did that come about?
When our son David was seven, he was best friends with a girl named Lisa. The things that happened in that friendship made me write to try and sort it out.
What things?
I didn't know what they were doing – children have their own private lives. So I did this from my own childhood. I had lived in many places because we moved so many times, and I always had to find a secret place for myself. I had three sisters and a brother but I was the one in the middle, so I played by myself. I made up stories in my head and played out all the parts.
What was it like for you to see the book take off?
I couldn't believe it. I thought it was a very private book. I wasn't sure my editor would even publish it. Then when it was [published], I could not believe the response.
What was the first thing that happened which made you realize the book was big?
It won the Newberry Medal in January, after being published in the fall. In those days, they called you, so the phone rang at five in the morning. It was very hard to believe. We have a friend who won, and her husband opened a bottle of champagne that morning. My husband went down and got me some milk.
Your son David has co-written the screenplay for the film. Obviously, he had a strong literary influence in your home. Did you nurture him as a writer?
No, he was like me. He didn't know he was going to be a writer. He loved to draw. He was going to marry his sister Mary and stay home with the other children.
Was this film his idea?
He told me he's been working on it for 17 years. I said that wasn't possible, but it is. He said he had to wait for Walden Media to be created, because he thought nobody would want it. Who would want a kid's book? Well, Walden believes that people do want those stories, and they also believe in protecting the integrity of the story.
Did you have any concerns about how it would turn out?
One of my biggest worries about turning the book into a film was what Terabithia itself would be like. For the past thirty years, readers have been creating Terabithia in their own imaginations, and no two readers will ever have the same vision of the place. I write books because I want the readers' imaginations to come to life and, although I understand films and books are very different, I hoped that this would somehow be honored in the film. I really don't understand it myself but through the writing and the directing and the actors and the designs, beginning with the opening credits, you really feel as if you are walking right into Jess and Leslie's imaginations – which was a very important thing to me. I really hope it will inspire audiences not only to read books but to see the power of what a story can do, that it can enlarge the human spirit
Recently on Movie Features
Have something to say about this article? Leave your comment via Facebook below!
advertise with us
Example: "Gen 1:1" "John 3" "Moses" "trust"
Advanced Search
Listen to Your Favorite Pastors