Hannah Montana and Miley Cyrus: Living in Two Worlds
Rebecca Cusey, Crosswalk.com Contributing Writer
Thursday, April 09, 2009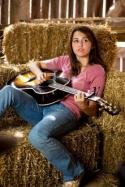 Miley Cyrus, the star of Disney's astronomically successful series, Hannah Montana, is bringing the magic of the pop star with the secret normal life to the big screen in Hannah Montana: The Movie, opening Friday.
In an odd life-imitating-art-imitating-life circle, both Miley Cyrus and her character Miley Stewart are growing up. The movie moves past the slapstick tone of the TV show to take on paparazzi, celebrity, and Hollywood culture and compare it to roots, family, and hometown values.
The film begins with Miley Stewart living the high life in California. Her alter ego, pop star Hannah Montana, enjoys the fruits of her popularity. She shops on Rodeo Drive, is shuttled around in a limo, and fields invitations to awards shows. When she wants normal life, she just takes off her extraordinarily effective blonde wig and becomes Miley, ordinary schoolgirl. But it's all getting a little out of control. After a knock-down, drag-out fight with Tyra Banks (in a self-deprecating cameo) over a cute pair of heels, Hannah's limo is late to her best friend Lilly's (Emily Osment) 16th birthday party. Her late arrival as Hannah Montana steals the spotlight from the birthday girl. She also misses her brother's departure for college. To top it off, a slimy gossip reporter lurks around, sure that there will be a scandal to splash across the front of his magazine.
Miley's daddy Robbie Ray (Billy Ray Cyrus) decides his daughter needs a perspective adjustment and carries her off to the family homestead in Tennessee. The chickens roam the yard, the cute farmhand rides a horse, and the family plays bluegrass on the porch in the evenings. Miley, however, doesn't even recognize her own horse. A stint on her grandmother's farm that's full of music, hard work, and loving common sense might just be what the spoiled pop star needs.
Miley meets Travis (Lucas Till), a handsome cowboy who works on the farm for the summer. He gets up with the sun and labors at fixing up the hen coop in his spare time. He has plans to build a life through hard work, starting with selling eggs one at a time. As Miley is drawn to him, her life is made more complicated by the gossip reporter who follows her to Crowley Corners, and by a greedy developer who wants to build a mall over the rolling countryside. The town calls on Hannah Montana to help raise money. Miley's and Hannah's double life gets harder and harder to maintain. She's drawing close to a choice: Tennessee Miley or Hollywood Hannah. Which will she be?
"The double life really starts affecting Miley Stewart and starts making her the person she was always so against. The reason she had this double life was so that she could not become that person and not respect material things and be so obsessed with Hollywood and what she's become and not who she is. It's important to always bring it back to what's important and that's the friends and the family," said Miley Cyrus at a recent press junket.
Her father, Billy Ray Cyrus, said the connection to home, family, and faith, is important to real-life Miley, too. "She loves acting. She loves singing. She loves writing songs. I think part of it is staying real and remembering who she is and where she comes from and what it's all about. Never forget where you come from. That's the theme of this movie. Going back to your roots and remembering why you're here."
The fact that the movie is set largely in Tennessee gave Miley a chance to spend some time in her home state, just like her character. "I wish I had more time to visit," she said, adding that she'd like to have a quiet house there some day.
So how much of Miley on-screen is like Miley in real life? "The thing about Miley," said Jason Earles who plays Miley Stewart's brother Jackson, "Is that she basically doesn't have a filter. You know exactly where you stand with her. And there's something very charming about that."
Recently on Movie Features
Have something to say about this article? Leave your comment via Facebook below!
advertise with us
Example: "Gen 1:1" "John 3" "Moses" "trust"
Advanced Search
Listen to Your Favorite Pastors