"Hidalgo" - Movie Review
Annabelle Robertson, Entertainment Critic
Monday, March 08, 2004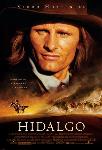 Release Date: March 5, 2004

Rating: PG-13 (for adventure violence and some mild innuendo)

Genre: Action/Drama/Adventure

Director: Joe Johnston

Actors: Viggo Mortensen, Zuleikha Robinson, Omar Shariff, Louise Lombard, Elizabeth Berridge, J.K. Simmons
At first I was confused. Then I was disappointed. Then I was mad.
Set in 1890, "Hidalgo" tells the story of the legendary Frank T. Hopkins (Viggo Mortensen), a dispatch courier for the Pony Express who unwittingly delivers orders for the Native American massacre at Wounded Knee. Filled with horror and remorse, Hopkins turns to booze and joins Buffalo Bill's (J.K. Simmons) unlikely but wildly popular rodeo show.
When the Arab "sheik of sheiks" (Omar Shariff) hears that Hopkins is one of the best riders in the West, he issues a challenge for him to ride in the 3,000 mile Ocean of Fire race across the desert. No American has ever entered, much less won, and certainly not on an impure Mustang like "Hidalgo." Hopeful of winning the $100,000 purse, Hopkins goes to Arabia, where he must combat mother nature as well as human nature.
The opening scenes are highly reminiscent of "The Last Samurai," but Hopkins' trip soon morphs into "Lawrence of Arabia." The race begins, but when the sheik's daughter is kidnapped, Hopkins saves her while battling swashbuckling Bedouins, making me feel like I had mistakenly hit the "play" button on my VCR and turned on "Indiana Jones." When we return to the race, it's "Seabiscuit" reincarnated. Then no, we're ending on "Dances with Wolves," with Hopkins embracing his inner Native American.
We're talking cinematic schizophrenia at its worst. Of course, the so-called "true story" that inspired the film has its share of inconsistencies, too.