"Hiding Place" Re-Release a Must-See for a New Generation
Annabelle Robertson, Entertainment Critic
Friday, April 14, 2006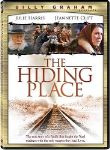 (Re-)Release Date: April 2006
Rating: PG (mild thematic elements and brief language)
Genre: Family Drama
Run Time: 2 hrs. 36 min.
Director: James F. Collier
Actors: Jeannette Clift, Julie Harris, Eileen Heckart, Arthur O'Connell, Paul Henley, Robert Rietty, Richard Wren, Nigel Hawthorne and Corrie Ten Boom

In 1975, Billy Graham Worldwide Pictures produced one of the best "Christian" films ever made. Based on the book, "The Hiding Place," by Corrie Ten Boom, a WWII Holocaust survivor, the film was seen by millions and heralded as an accurate, moving description of life under the Nazi regime – as well as a powerful presentation of the gospel. Now, 31 years later, "Billy Graham Presents" is re-releasing a restored version of the film on DVD, which will allow a younger generation to view and contemplate this very important film.
Written by Allan Sloane ("Martin Luther") and Lawrence Holben, "The Hiding Place" deviates little from Ten Boom's memoir, which opens in 1940 and carries through 1944. Corrie (Jeannette Clift) and Elizabeth "Betsy" Ten Boom (Julie Harris) are unmarried, 50-something women who live and work with their elderly father, Caspar "Papa" Ten Boom (Arthur O'Connell) in the Harlaam district of Amsterdam. The Ten Boom family has owned and operated an upscale watch shop for more than 100 years, and they are popular among their neighbors. But the Nazis have just arrived to occupy Holland, and things are growing increasingly worse for the country's Jews. The Ten Booms, who are devout Christians, are uneasy about these changes, but unsure how to combat them. When the Nazis force the Jews to wear yellow identification stars, however, the outspoken Caspar takes action. He lines up, requests a star and proceeds to wear it at all times.
"If we all wear them," he rightly says, "then they won't be able to tell us apart." Alas, as history shows, solidarity was the exception – not the rule – among Gentiles. Soon, Jews are being carted off, sometimes even in the middle of the night. Even the Ten Boom's pastor, Reverend De Ruiter (Nigel Hawthorne), remains passive. Not only does he beg Caspar to remove the star, but he is aghast when they ask him to safeguard a Jewish baby in his country home.
"Christians must always obey the law," he stutters. Caspar agrees, but with one exception: when the law violates God's statutes. Therefore, says the octogenarian, he will remove the yellow star. He will, however, keep the baby – and anyone else who knocks on his door for protection, too. And with these words, the Ten Booms become another "stop" on the underground railroad of the Dutch resistance. Aided by their brothers, Willem (Robert Rietty) and Peter (Paul Henley) – who have long been involved in these activities – Corrie and Betsy begin to take in Jews.
Their day-to-day decisions are not always the wisest, although the family certainly has good intentions. Corrie refuses to even look at the name of, much less turn in, a local businessman who betrays Jews to the Gestapo. They forget the importance of quiet, encouraging their guests to sing one night after dinner And, they're willing to help anyone who asks. Can arrest be far behind? Unfortunately not.
Soon, the family is rounded up and taken to prison. Corrie and Betsy are separated, then miraculously reunited on a train to Ravensbruck, a concentration camp for women. While there, Betsy teaches the other inmates about Jesus, even as they struggle to survive. She also encourages Corrie in her floundering faith, urging her to give thanks "in all things" – even the lice in their cramped and filthy quarters. Corrie reluctantly agrees, only to learn, sometime later, that thanks to the lice, the vicious prison guards refuse to enter the premises, leaving the women to do and speak as they please during the evenings, when not engaged in back-breaking labor. Then Betsy has a dream from the Lord. They will both be free before the new year, she says. It seems impossible, in this place without hope. But, as Corrie is about to learn, God's ways are oh-so higher than our ways.
Recently on Movie Features
Have something to say about this article? Leave your comment via Facebook below!
advertise with us
Example: "Gen 1:1" "John 3" "Moses" "trust"
Advanced Search
Listen to Your Favorite Pastors