Hollywood Newcomer Maddy Curley Proves She Can "Stick It"
Annabelle Robertson, Entertainment Critic
Monday, April 24, 2006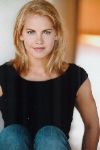 Maddy Curley understands competition.  So when she auditioned for her first film role, Curley knew she needed to stand out from the hundreds of other actresses who had also auditioned. 

She therefore obtained the email address of director Jessica Bendinger ("Bring It On") and began sending her chatty emails, several times a week.  She emailed so much, in fact, that Bendinger dubbed the emails "Maddy Spam."  It worked, though.  Bendiger cast Curley in one of the lead roles, on the condition that she stop sending emails. 
It's just one of the lessons that Curley learned, early on in life, about the importance of taking risks and going after what you want.
A former University of North Carolina Elite gymnast and a four-time competitor at the National Collegiate Athletic Association (NCAA) Regional Championships, Curley grew up in the gymnastics studio, practicing four hours a day, six days a week.  Her gymnastics background, in fact, is one of the main reasons Bendinger, a former gymnast who also wrote the screenplay for the film, agreed to audition Curley. 
"Stick It" (Touchstone Pictures), which releases on April 28, tells the story of Haley (Missy Peregryrm), a smart-aleck teen who renounced gymnastics at the pinnacle of her career, ruining her teammates' chances for a spot on the Olympic team.  When a thoughtless prank goes awry, Haley is forced to attend a regimented, elite gymnastics academy as part of her sentence.  She must train under a tough coach (Jeff Bridges) with teammates who are less than thrilled about her return to the sport.  Curley plays Mina, one of just a few gymnasts who is actually glad to see Haley back in the fold.
"This film has the same competitive spirit and comedy [as "Bring It On"], but at the same time, it's also very dramatic," Curley says.  "I love how Jessica can pull in the drama to show these huge emotions behind a sport like gymnastics or cheerleading, with the comedy coming from the characters' relationships and from the youthfulness of Mina and Wei Wei as they're learning and growing."
In addition to her success onscreen and on the mat, Curley is also a Christian.  I spoke with her about her faith, her background and what it was like to snag such a plum role, so early in her career as an actress.
---
Q:  I understand that you're a youth worker at The Vineyard Christian Fellowship in Venice, CA.  When did you become a Christian?
A:  I can't remember a time when I wasn't a Christian.  I grew up Methodist and was baptized when I was 13, which was when I really 'got it.'  In college, I went to Catholic church with some friends as well as a few others.  I was active in Athletes in Action and my roommate was a phenomenal Christian – a big influence.  And I always went to church regularly, so when I came out here to California, that was really important to me.  I didn't want to bounce from church to church.  I found this church and it was a good fit.  The sermons were so great, so biblical.  Now I'm a youth leader, working with middle school kids.
Q:  Your background as a gymnast is really impressive.  How did you get involved with the sport?
A:  I was eating with my parents at a restaurant when I was 4.  We walked past a training center in Tallahassee and I said I wanted to watch.  Then I tried a class and the coach came up to me and said that I was too advanced for that class.  I had to decide between dance and gymnastics, but there really was no choice.  I started competing at age 6 and then, I guess, the rest is history.
Recently on Movie Features
Have something to say about this article? Leave your comment via Facebook below!
advertise with us
Example: "Gen 1:1" "John 3" "Moses" "trust"
Advanced Search
Listen to Your Favorite Pastors