Hollywood Newcomer Maddy Curley Proves She Can "Stick It"
Annabelle Robertson, Entertainment Critic
Monday, April 24, 2006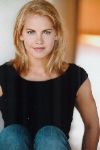 Q:  What made you decide to go to UNC-Chapel Hill?
A:  I wanted to go to a college with a great education as well as a great gymnastics program.  And, I got a full scholarship, which helped with my decision (laughs).
Q:  That's a very competitive school.  You must have had really good grades, being from out of state.
A:  I had a 4.0.
Q:  I always find it interesting that the best athletes are almost always the best students as well.
A:  UNC has the highest GPA of any college gymnastics team.  If you slip even a little, our coach, Derek Galvin, will take you off the team until you get your grades back up.  I loved that about it – being the smartest team (laughs).  
Q:  How common are gymnastics scholarships?
A:  Not very – there just aren't that many offered.  UNC only had one in state and one out-of-state. Other colleges have a little more, but it's definitely very competitive.
Q:  You were a great gymnast and a great student.  How in the world did you find the time to do any acting?
A:  I was at the gym 4 hours a day, 6 days a week.  On Saturdays we had practices and competitions from January to May.  But summers growing up, I was a member of The Petite Players, a summer acting program for kids in Tallahassee.  I played a munchkin in "The Wizard of Oz" and Luisa in "The Sound of Music."  In college, I was finally able to focus on it, however.  My coach was very accommodating and wanted us to have a life outside of gymnastics.  You don't really do gymnastics after college, so I did a lot of plays. I was part of an improv group where we performed.
Q:  So this is your first big role. 
A:  It was actually my first audition for a film.

Q:  How did you manage to get the part?  Through your agent?
A:  No – I got an agent afterwards.   An acquaintance from an acting class who was working for a casting agency asked around for my email address.  She told me I should come and audition for it.  I got so excited I went straight up to DC and auditioned.  Then I got called back and called back again.  They made a DVD and sent it out, and then I went out to LA and auditioned again.  Then I waited a really long time.  I was very fortunate to have the director's email address.
Q:  So tell me about making the movie.
A:  Well, it was the best experience of my life.  I loved going in every single day.  It feels exactly like what you would think it would, if you were a star!  They would ask me what I wanted for breakfast, then I would go into the hair and makeup trailer and they would do my hair and makeup.  Then I would go into wardrobe and they would tell me what to wear (although I wore a leotard every single day).  Then we'd go down to the set, or you could wait until someone called you.
Q:  Were you down there every day?
A:  Every second!  I wanted to see everything that went on, all the time.  So you just waited until you did you scene.  I had no idea you did it from four different angles – from the back, the front, the side.  Now, when I watch a movie, I have so much respect for them.  I know what it took to get a shot.  A lot of my friends got to come and visit me on set, and they appreciate it now, too.
Recently on Movie Features
Have something to say about this article? Leave your comment via Facebook below!
advertise with us
Example: "Gen 1:1" "John 3" "Moses" "trust"
Advanced Search
Listen to Your Favorite Pastors