The Way Reconnects Father and Son
Laura MacCorkle, Senior Editor, Crosswalk.com
Monday, October 17, 2011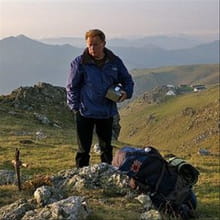 "We give voice to the unborn through the character of Sarah, who has made this terrible choice that has left an enormous hole in her heart," Estevez says of the pilgrim when she reveals she has terminated a pregnancy. "And in that moment that she shares with Tom that she's hearing the voice of her unborn daughter, it doesn't sound too crazy to him, because he's seeing the vision of his deceased son. And in that moment they share a bond."
Rounding out the motley crew is Jack (James Nesbitt, match point), a spirited Irish travel writer who says he's just gathering research for his next writing assignment but also admits that "no one walks this Camino by accident." Soon, he, too, will wedge his way into Tom's life space and help the reluctant pilgrim open up a little and begin to trust others.
"I think the tagline says it all . . . life is too short or too big to walk it alone. And that really is the theme of the film is that we're all connected, and we're all beautiful, wonderful messes and we're all imperfect and God loves us in our imperfections," says Estevez.
Sheen adds, "I hope that people will embrace the idea of healing, no matter the loss. And while each one of us has to endure our journey alone, no one [else] can carry our interior or exterior baggage and no one can walk in our shoes. We must do that alone.
"But we cannot do it without community," he further explains. "And I think that's a central theme . . . [Tom] finds out that really it's not about proving how good you are at something. It's about how open you are to the surrender of others and how all our imperfections are a reflection of ourselves and that we're all included in the extended family which is called community. And that's how we heal."
As the rough edges of his fellow pilgrims begin rubbing Tom the wrong way, at one point he has a little too much to drink and comes unglued as his bottled-up anger is unleashed. But thankfully his new friends are more road-tested than offended. And once they bail him out of jail after his public-disturbance arrest, they resume their pilgrimage together along the scenic path.
It's the next important step toward the gift Tom's son wanted him to know: to live meaningfully we have to open ourselves to others and embrace the joy and wonder of the journey.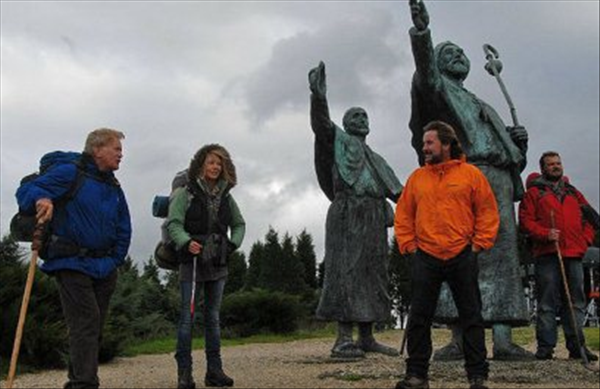 Lights, Camera . . . Miracles!
Shot on location in just 40 days in various locations across Europe, The Way gives moviegoers an amazing look at what the Camino de Santiago is really like as pilgrims greet each other with "buen camino" (good road) in passing one another along the trail.
Navigating through rural mountains and country villages, alongside rivers and beautiful parishes, inside pilgrim hostels and the Cathedral of Santiago de Compostela and atop the rocky peninsula of Cape Finisterre, The Way is a visual feast for the travel lover's eye. Additionally, as the first feature film ever granted permission to shoot inside the official Camino de Santiago endpoint with only one hour allowed for the crew to shoot, The Way captures an exclusive scene from a Mass where the world's largest botafumerio (swinging incense dispenser) is released into a stunning 65-meter pendulum.
Despite the shooting restrictions and even the naysayers, Estevez says that he still wanted to be flexible with the entire production schedule.
Recently on Movie Features
Have something to say about this article? Leave your comment via Facebook below!
advertise with us
Example: "Gen 1:1" "John 3" "Moses" "trust"
Advanced Search
Listen to Your Favorite Pastors