Jesus' Death and Resurrection as Portrayed on Film
Christian Hamaker, Crosswalk.com Contributing Writer
Tuesday, March 18, 2008

In the film's garden of Gethsemane sequence, Jesus prays the words "My father" before collapsing to the group, then starting again. "Not as I will, but as you will," he says, just as the crowd arrives with Judas, who kisses the Lord. There is no comment about the kiss. Peter subsequently denies Christ, and a rooster crows. He denies Christ again, and then denies Jesus face to face. While looking into Jesus' eyes, Peter hears a rooster crow.
For the trial, Pilate peppers Jesus with aggressive questions. "Are you a king?" he asks. Jesus replies, "It is your own lips that have called me king."

"Then you are a king," Pilate says.
"I was born and came into this world to give testimony to the truth," Jesus says.

"What is truth? … Can there not be more than one truth?" Pilate counters.
"There is only one truth, and it is written in the commandments: Be true to God," Jesus says.
In a later scene, Pilate's wife expresses skepticism of the case against Jesus. We then watch as Jesus is whipped, his face contorted. Workers assemble a cross, and a soldier makes a crown of thorns, which he places on Jesus' head.

We hear Christ being nailed to the cross (this occurs offscreen). Someone says of Jesus, "The man is dying in my place. Why should he do that?" As Jesus is lifted up, he prays, "Forgive them Father, for they know not what they do."
Two thieves also being crucified exchange words with Jesus. The Lord promises the repentant one that he will be with Jesus in Paradise, then looks down to Mary and says, "Woman, behold your son."
With two rivulets of blood on his face, Jesus says, "My God, my God. Why have you forsaken me?" but the recitation is dispassionate. "It is finished," Jesus says. "Father, into your hands I commend my soul." As the sky darkens and thunder is heard, a centurion says, "He is truly the Christ."
Welles' narration then explains Jesus' placement in a tomb. We see the tomb, as several people exit it and a stone rolls over the opening. We don't see who, or how many people, push the stone over the opening.
Cut to a shot of Mary Magdalene arriving at the tomb. Seeing it empty, she runs out. A man with his back to her turns and calls her by name. She recognizes Jesus, who tells her not to touch him but to tell the disciples than he will ascend to the Father. They will see him in Galilee.
Welles, in narration, says Christ was seen by those who "knew he was the Lord God." The disciples are shown on a shore, looking at the risen Jesus, who we hear—but don't see—as he commands them to go and preach the gospel. "I am with you always, even to the end of the world," we hear Jesus say, and as the disciples walk offscreen, the shadow Christ falls across a line in the sand, forming a cross image.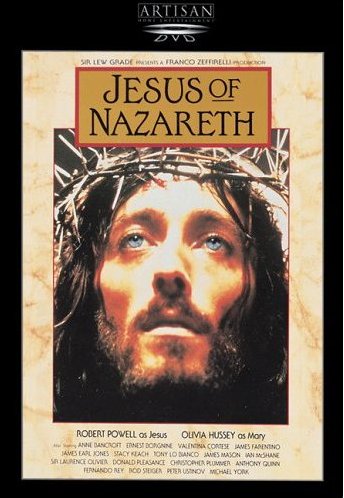 JESUS OF NAZARETH (1977)

This popular mini-series is cast with British actors, including Robert Powell as Jesus. Directed by Franco Zeffirelli, the film is dull but reverent, and it has been considered one of the finer treatments of the life of Christ on film.
The Gethsemane sequence shows Peter asleep, while Jesus prays that the cup pass from him "if it is possible." When Judas shows up, Jesus says, "This is your hour, Judas. The hour of shadows." Judas is shown interacting with Jesus' captors, clearly torn by his decision.
Before Caiaphas, Jesus answers questions with full, eloquent sentences. Everyone in the Sanhedrin has a British accent. Asked if he is the Messiah, Jesus says, "I am, and you shall see the Son of Man sitting at the right hand of the power of God." Caiaphas, hearing the response, tears his clothes and proclaims, "The Lord our God, the Lord is one!"
Recently on Movie Features
Have something to say about this article? Leave your comment via Facebook below!
advertise with us
Example: "Gen 1:1" "John 3" "Moses" "trust"
Advanced Search
Listen to Your Favorite Pastors