Jesus' Death and Resurrection as Portrayed on Film
Christian Hamaker, Crosswalk.com Contributing Writer
Tuesday, March 18, 2008

Peter denies Christ three times in quick succession. Judas is shown hanging from a tree, with his silver pieces scattered on the ground beneath him.
As Jesus is whipped, soldiers taunt him. "King of the Jews," they say mockingly, as they laugh. A soldier makes a thorn of crowns and places it on Jesus, who approaches Pilate, body bleeding, but able to walk with little problem on his own.
A crowd strategizes to have Barabbas released instead of Christ. Jesus' mother, in the crowd, screams his name when Pilate asks whom he should release, but she is slapped and called a "slut." Pilate is clearly reluctant to carry out the death sentence against Jesus.
Jesus carries a beam on his back. Nails are shown going into his palms, and the beam is then raised and attached to an already erected post. Jesus hangs from the cross, his body nearly blood-free, and says, "Father, forgive them. They know not what they do." The two thieves being crucified with Jesus converse with him, and Christ promises the one who asks to be remembered that "today you will be with me in Paradise." He says to John, "Behold your mother," and to Mary, "Behold your son." Then, although he has spoken English throughout the film, he cries out, in Hebrew, "Eloi, eloi, lama sabachthani!" (English translation: "My God, my God. Why have you forsaken me?") Onlookers quote Isaiah 53. Jesus, looking directly into the camera, says "Into thy hands, I commit my spirit. It is accomplished."
Mary is shown with the body of her son—a pieta pose. Those responsible for Jesus' death discuss rumors that Jesus might rise from the dead, and a case is made for guarding Jesus' tomb.
Three women on their way to Jesus' tomb encounter an angel who asks them, "Why do you seek the living among the dead?" Mary Magdalene arrives where the disciples have gathered and tells them "I have seen him! He is risen." She is greeted with skepticism. "Women's fantasies," says one disciple, but Peter embraces her story and accuses the other disciples of betraying Jesus.

Jesus is shown explaining that it is written that he must suffer and die. "Receive the Holy Spirit," he says to the disciples. "Go like lambs among wolves. Make disciples of all the nations. … Now I am leaving the world again. I am going to the Father."
Looking into the camera, Jesus says, "Don't be afraid. I am with you every day, until the end of time." The film cuts to its final shot—and empty tomb.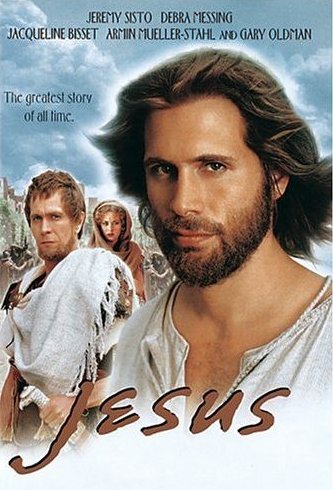 JESUS (1999)

More than 20 years after Zeffirelli's mini-series, CBS aired director Roger Young's story of Christ's life, starring Jeremy Sisto in the title role. Hailed by some critics as a breakthrough that emphasized Jesus' humanity, the two-part TV movie includes some unusual interpretations of Christ's life.
In the garden, Jesus prays, saying he's "so afraid," at which point Satan appears and tempts Jesus with images of the future. "You've seen crucifixion, but you've never felt it," he says, telling Jesus his death would be "all in vain."
Satan shows Jesus the Crusades, with men shouting "In the name of Jesus Christ!" as they attack and kill their enemies. He also shows Jesus images of modern warfare. "You can stop it tonight. End poverty. End war," Satan says.

Jesus informs Satan that God gives man freedom of choice, then he says, "I forgive you," to Satan.
Recently on Movie Features
Have something to say about this article? Leave your comment via Facebook below!
advertise with us
Example: "Gen 1:1" "John 3" "Moses" "trust"
Advanced Search
Listen to Your Favorite Pastors