Little Bella: Ready to Touch Hearts and Change Lives
Russell Shubin, National News and Public Affairs, Salem Communications
Thursday, October 25, 2007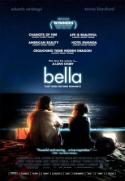 A Conversation with Eduardo Verastegui
The hotly debated question in politics right now is whether or not Republicans will nominate a pro-life candidate for president. But for those of us who bemoan the lack of healthy entertainment choices, there's a more immediate question that will be decided not at the ballet box but the box office this coming weekend. That question is: Can a beautifully-crafted film with an equally beautiful life-affirming message make it on the big screen?
The movie at issue is Bella. It is a moving work of art that is full of heart. "The film shows there is a time in everyone's life when a moment will change your life forever and it will never be the same again. If it hasn't happened to you, it will," explains Eduardo Verastegui, who plays the lead role of Jose in the film. "It's a love story that goes beyond romance," he continues "about a man who had everything. He lost it all, but losing it all he found all that matters in life which is family, true love, true friendship and a lot of beautiful things that you will see while watching the film."
Whether or not it is successful in general release will be decided—to a very significant degree—on opening weekend, beginning this Friday, October 26. Only with strong opening numbers can the film gain access to the greater number of screens across the country so essential to box office success. And the decision will be made by moviegoers like you and like me. But if the past is an indicator of the future, "little Bella" as Eduardo affectionately refers to this first project by Metanoia Films, may well make it big.
The sense that something special was happening with this film started to come clear last year when their entry was accepted at the Toronto Film Festival. "The film wasn't even finished, and we sent it to the biggest film festival in the world and our hope was only to get in. We were thinking, could you imagine if we get in?—then we will have the little logo in our poster 'Official Selection of the Toronto Film Festival,' and that's the only thing that we were looking for."
Eduardo, along with Director Alejandro Monteverde and Producer Leo Severino, could not have been more surprised. Film Festival attendees packed the theatre and gave Bella the coveted People's Choice Award. This puts the film in good company: Chariots of Fire (1984), Life Is Beautiful (1998) and Crouching Tiger, Hidden Dragon (2000) were all similarly recognized with the People's Choice Award—and all went on to win at the Oscars.

But how can we explain the success of what is such a genuinely life-affirming film? "The only explanation is God. It seems like God is bigger than Toronto. … I think the people really received the message and it touched them," Eduardo says. "And I think when someone is moved and when somebody cries hard and laughs hard and when someone leaves the theatre moved and touched. … That means a lot, and I think that's what Bella did to the audience in Toronto."

So, while Academy Award recognition would be nice, it's not the primary motivator for Eduardo, Sevorino and Monteverde. These "three amigos" as they've been labeled know all too well that so much of what is coming out from Hollywood is "poison"—and they wanted to start a company whose films have an uncompromising positive message. For Eduardo, Bella marks a very abrupt change of course. He has been described in a number of outlets as the "Brad Pitt of Latin America." Yet he became disillusioned and dissatisfied as his career led him down the path of the Latin lover. After a renewal of his Catholic faith, he now says, "I knew I was not born to be a movie star. … I was born to know and to love and to serve Jesus Christ, and that's my goal."

Eduardo recognized that "young people live according to the standards that they see in the media. We have this tendency and this inclination to copy and to imitate what we see in the media—and it's very sad because 90 percent of what is coming from the media is poisoning our society."
Recently on Movie Features
Have something to say about this article? Leave your comment via Facebook below!
advertise with us
Example: "Gen 1:1" "John 3" "Moses" "trust"
Advanced Search
Listen to Your Favorite Pastors