Mike Epps: Feeling Good in the Neighborhood
Annabelle Robertson, Entertainment Critic
Tuesday, June 07, 2005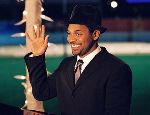 Mike Epps make not consider himself a Christian, but he definitely credits the Lord with getting him on the right path.  The 34-year-old comedian-turned-actor, who has appeared in more than a dozen films, including "Dr. Doolittle 2," "The Fighting Temptations" and "Resident Evil: Apocalypse," struggled with drugs and had even been in jail – all before the age of 21.
"Oh, man.  You're talking to a guy who didn't graduate," Epps says, about landing his first film role in 2000 ("Next Friday").  "I got an eighth grade education.  I grew up with eight brothers and sisters on welfare.  From the gutter.  It was like, thank you, I'm glad for the opportunity.  If I don't get more than this, it was more than I thought I would do."
But Epps did get more – much more.  He's starred alongside Ice Cube in both the second and third installments of the "Friday" series, and Eddie Murphy in "Dr. Doolittle 2."  And he's just finished shooting "Roll Bounce" with Malcolm Dee, Spike Lee's cousin, and is currently filming a drama called "42.4 Percent."
With Cedric the Entertainer, he's also starring in the film version of the CBS television series, "The Honeymooners," which opens this week.
"I don't know where the idea came from," Epps said, about the decision to use African-American actors in the film.  "Someone said 'Let's put some flava in the neighbor. Let's dip it in chocolate and see what it'll do.'"
Raised by a stay-at-home mother and a father who worked in a factory, Epps says his family never attended church.  He's not a religious man, either, but says he's a "God-fearing person" who believes in "the spirit."
"I believe that there's a spirit that wakes me up every night – every morning – and protects me," he explains.
And when asked how he got off the narrow road he was on as a young man, Epps says simply, "Man…through the will of God.  I know it.  It's like He had a plan for me and I took some footsteps.  You gotta strip yourself."
Epps got his start in showbiz with "Def Comedy Jam," after years on the comedy circuit.  He was always the class clown, he says, getting into trouble at school and with the law.  Born in Indianapolis, he won a contest at a comedy club (grand prize: $35 and a bottle of champagne) at the age of 21, which gave him the confidence to move to Atlanta.  There, Epps worked on this routine and performed stand-up at the Comedy Act Theatre.  Encouraged by the club's owner, however, he soon headed to New York City. 
Now, he's appearing in a lead role with one of Hollywood's top actors.
"The Honeymooners" television series, which aired on CBS for 39 episodes during 1955 and 1956, starred Jackie Gleason and Art Carney.  Extremely popular, the show transformed Carney, who played Norton, into a household name, along with Gleason.
"Carney was a brilliant comedian," Epps says.  "I'm not trying to compete with him, just to give my interpretation of the character."
Epps understands Norton's character pretty well.  While learning to be a stand-up comic in Atlanta, he worked in the sewers – just like Norton.   
"I didn't have to do too much research to get to know Norton," he says, with a laugh. "I'm particularly familiar with the underworld."
Unlike Norton, however, Epps lasted only a week in the sewers.  He had his mind on Hollywood.
Recently on Movie Features
Have something to say about this article? Leave your comment via Facebook below!
advertise with us
Example: "Gen 1:1" "John 3" "Moses" "trust"
Advanced Search
Listen to Your Favorite Pastors