Million Dollar Baby Destined to Elicit Praise
Annabelle Robertson, Entertainment Critic
Thursday, January 20, 2005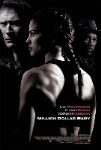 DVD Release Date: July 12, 2005
Theatrical Release Date: January 21, 2005 (wide)
Rating: PG-13 (for violence, some disturbing images, thematic material and language)
Genre: Drama
Run Time: 2 hrs. 17 min.
Director: Clint Eastwood
Actors: Hilary Swank, Morgan Freeman, Clint Eastwood
It's one of those films that's destined to elicit praise. Not only does Million Dollar Baby have an all-star cast, a talented director, sensitive cinematography and a good script, full of well-drawn characters and strong dialogue, but it also has a strong, pro-euthanasia message. That's a formula to please many critics - and infuriate many Christians.
Frankie Dunn (Clint Eastwood) runs a rundown boxing gym in downtown L.A. The gym's manager, Eddie "Scrap-Iron" Dupris (Morgan Freeman), a former fighter, is Frankie's only friend, and the men communicate through curmudgeonly banter. Frankie's an excellent trainer, having coached several fighters to championship level. But each time, he loses them to other trainers, because he doesn't want them getting hurt in the ring - like Scrap, who lost an eye after one too many fights. As a result, Frankie's a lonely man, whose only daughter returns his weekly letters unread. So Frankie prays every night, on his knees, and attends mass, where he is full of questions. He also reads poetry and is teaching himself Gaelic, to fill up the empty spaces.
Maggie Fitzgerald (Hillary Swank) has escaped from a dirt-poor, abusive family in the Ozarks to wait tables in L.A. In her spare time, she boxes at Frankie's gym and tries to persuade him to train her for matches. But Frankie doesn't train "girlies," because "girl fights are the latest freak shows." So Scrap takes pity on the girl, especially since she's paid 6 months of gym dues and works out, day after day. He gives her a few tips, which Frankie notices. Soon, Frankie has stepped in as well, even though Maggie is 31 and too old to be a real contender. But it isn't long before she's winning matches.
What happens isn't what you'd expect. In fact, what initially appears to be a rehashed Rocky plot takes a serious right turn about midway through the film, transforming audience's cheers into muted horror. It's a vivid portrayal of the risks of boxing - and what it means to live in a state of unimaginable physical and emotional agony, while coping with devastating isolation from those you know and love.
Eastwood has evolved into one of the top directors in Hollywood, and Million Dollar Baby may be his best effort yet. It's an odd film, in the way that it hypes you up then pulls you down, leaving you with a curious sense of incongruence. But that is more, I'm quite sure, a reflection of what we have come to expect from Hollywood - a formulaic plot - rather than what a film could and should be. That there is no romance in this film underscores the point. Additionally, in this case, it is also a very accurate rendering of life, which follows circuitous paths of tragedy and triumph.
Eastwood has made sure that his cinematography and lighting mirror the subtle, minimalist tone of the film, with dark grays and deep blues that creep in and around each frame and half shadows that reflect the more ambiguous scenes. He's also coaxed excellent performances from Swank, who will no doubt receive a Best Actress Oscar, and Freeman, who has a harder role, by its supporting nature, but who pulls it off with great aplomb. Swank never overacts, always hits her marks and has a plausible Southern accent - a rarity. She is compelling, lovable and, quite simply, mesmerizing. Freeman is just as convincing in his role, and it's a delight to watch this triumvirate interact, whether together or in pairs.
Recently on Movie Features
Have something to say about this article? Leave your comment via Facebook below!
advertise with us
Example: "Gen 1:1" "John 3" "Moses" "trust"
Advanced Search
Listen to Your Favorite Pastors