"Monster-in-Law" an Unfortunate Comeback Flick for Fonda
Annabelle Robertson, Entertainment Critic
Thursday, May 12, 2005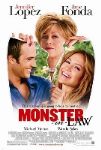 The plot of "Monster-in-Law" is nothing more than a female version of "Meet the Parents" or "Father of the Bride." And it had great potential, playing off a cliché that sadly, is more often true than not. But instead of amusing antics, we get tired truisms. I mean, how bad can it be that you lose sleep for a few days in a row? And what bride doesn't have someone (usually her own mother) trying to plan her wedding for her? This is "revenge?"
In Lopez's hands, Charlie is a sweet but bland young woman with lots of talent that she never puts to use – a point that is completely overlooked by the script. There is no real reason for Viola to despise her so vehemently, however, even with a breakdown. Charlie's friendly, polite and clearly devoted to Kevin – but bo-ring. Even more so, Vartan is as insipid as his character, who never quite figures out what is going on and smiles blandly throughout. That there is no chemistry between him and Lopez only underscores the film's ho-hum nature.
With its simple plot, colorless characters and mild antics, "Monster-in-Law" appears to be geared toward the 'tweener audience. Yet clearly, with its sexual situations and innuendo, it is not. It's as if the screenwriters simply couldn't determine their audience – something hindered by Robert Luketic, whose minimal credits include the far more inspired "Legally Blonde" and the cheesy-but-winsome "Win a Date with Tad Hamilton."
The film invites us to believe that we have nothing but wit and deception with which to defeat our enemy. Actually, believers have been given a host of spiritual and emotional resources, both on Earth and in Heaven – which makes that a pretty sad message, indeed. Go, if you must.
AUDIENCE: Adults
OBJECTIONABLE CONTENT:
Drugs/Alcohol Content: Character, who is apparently a recovering alcoholic, relapses many times and drinks, sometimes to excess; various comments about and scenes involving "anti-anxiety" medication, including abuse of same.
Language/Profanity: About 25 obscenities, 4 references to "slut" and one f-word, which is cut off before completed, as well as about 20 profanities (mostly "Oh my God").
Sexual Content/Nudity: A dog mounts another dog; reference to a woman's problems related to the fact that she is "not having sex;" gay character and several jokes/situations involving same, including comment about "gaydar;" unmarried couple meet and move in together after knowing each other for two months; woman suggests taking shower with her boyfriend; shot of woman's crotch as she attempts to pull down tight dress; various medium shots of woman's buxom cleavage; characters talk about getting "wet and naked" etc.
Violence: Two imaginary sequences in which woman repeatedly slams face of another woman into a large cake, and one woman knocks another woman unconscious with frying pan; various kicks and slaps between women, as well as some physical humor and devious tricks.
Recently on Movie Features
Have something to say about this article? Leave your comment via Facebook below!
advertise with us
Example: "Gen 1:1" "John 3" "Moses" "trust"
Advanced Search
Listen to Your Favorite Pastors