Movies That Do Spotlight Family Life
Phil Boatwright, Baptist Press
Thursday, June 30, 2005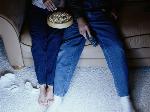 KANSAS CITY, Kan. — Hollywood just doesn't seem to be family friendly, does it? What's more, the media's bombardment of sensual imagery and political agendas often undermines family order. But movies have, upon occasion, presented some effective examples of family life.
The following list features movies with positive presentations of family life. You'll find every era represented, signaling the fact that while sensibilities and haircuts have changed, people from different generations share the same desires.
(Note to teens: Don't be afraid to view an old film. There's no expiration date on art.)
Of course, since people who make most movies don't turn to Scripture for lifestyle directions, it's impossible to feature films not containing at least something objectionable. I have tried to present DVDs/videos that contain uplifting messages.
"The Best Years of Our Lives" (1946)
Fredric March, Myrna Loy and an all-star cast tell a sensitive story of returning World War II servicemen and how they must adapt to civilian life. This seven-Oscar-winning film also deals with prejudice and longing, but without offensive language or sexual explicitness. Real-life disabled veteran Harold Russell won two Oscars for this film as Best Supporting Actor and a special award for "bringing hope and courage to his fellow veterans." Although some of the dialogue may seem strange to younger generations, this really is fabulous filmmaking. It also reminds us that when wars end, struggles continue for those who were willing to sacrifice their all for their country.
"Bill Cosby – Himself" (1982)
Cosby's insights on marriage and children highlight this very funny stand-up routine. But perhaps the funniest bit is his take on a trip to the dentist. I rank this routine right up there with Abbott & Costello's "Who's On First."
"The Boy Who Could Fly" (1986)
A young girl moves next door to an autistic boy who believes he can fly. A moving fable parents will enjoy viewing with their kids. Lucy Deakins, Fred Savage. It is rated PG (two expletives and a couple of crude jokes, but it is a sensitive often funny fantasy).
"Down In The Delta" (1998)
A Christian mother sends her substance-abusing daughter to relatives down South. There, she learns about responsibility and the importance of family. Alfre Woodard, Al Freeman Jr., Wesley Snipes Loretta Devine.
"Father of the Bride" (1991)
Steve Martin stars in a sensitive, often hilarious look at a father dealing with his daughter's impending marriage.
"Father of the Bride" (1950)
Spencer Tracy, Elizabeth Taylor. Better version, but for those of you who don't like black and white films, beware, this one is B&W.
"Friendly Persuasion" (1956)
Charming Gary Cooper film about a Quaker family standing up for its religious beliefs while the country faces the Civil War.
"Giant" (1956)
Elizabeth Taylor, Rock Hudson and James Dean – in his last film – give exceptional performances in this sprawling version of Edna Ferber's novel about life on a big Texas spread.
"The Good Earth" (1937)
Classic Oscar winner looks at the lives of a poor Chinese farmer and his family. Deals with the struggle between nobility and greed.

"How Green Was My Valley" (1941)
This John Ford Oscar-winner concerns a young boy's perceptions of family and community in a Welsh coal-mining town. Exquisite filmmaking. Walter Pidgeon, Maureen O'Hara, Donald Crisp Roddy McDowall.
Recently on Movie Features
Have something to say about this article? Leave your comment via Facebook below!
advertise with us
Example: "Gen 1:1" "John 3" "Moses" "trust"
Advanced Search
Listen to Your Favorite Pastors