Much Less to Like the Second Time Around in "Bridget Jones"
Annabelle Robertson, Entertainment Critic
Thursday, November 11, 2004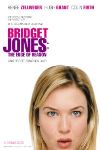 Release Date: November 12, 2004
Rating: R (for language and some sexual content)
Genre: Drama/Comedy/Romance
Run Time: 108 min.
Director: Biban Kidron
Actors: Renee Zellweger, Hugh Grant, Colin Firth, Jacinda Barrett, Jim Broadbent, Gemma Jones, Donald Douglas, Shirley Dixon

Oh, Bridget. Are you the new single gal? And if so, then where, oh where, did your self-esteem go?
For six glorious weeks, or 71 ecstatic "shags," as she defines their relationship, Bridget (Renee Zellweger) has been dating (stalking) Mark Darcy (Colin Firth) and watching him like a hawk, while he sleeps and while he does business. You see, walking off into the sunset with one's soul mate isn't quite as perfect as one would have thought – especially when one Bridget Jones cannot keep her mouth shut at black tie functions, embarrasses herself ad nauseum at her job and with anyone she meets, obsesses about her looks and allows her jealousy to run rampant, to the point that she spies on her boyfriend, in his home, and bursts in on business meetings with international officials and declares her feelings for him. What's an uptight, upper-class barrister to do? And what are these two doing together? Dear, oh dear.
When Bridget's former flame, sexaholic Daniel Cleaver (Hugh Grant) hits the scene, Bridget really starts to wonder. Perhaps she and Daniel are better suited for one another, despite their previous difficulties. After all, just because Daniel can't stop thinking and talking about sex – or hanging out with prostitutes during their business trip to Thailand – doesn't mean he's lying when he says he's changed and deserves another chance. Or does it? Besides, Mark Darcy has his long-legged, perfect legal intern (Jacinda Barrett) hanging all over him – even following them on their romantic ski holiday. Oh, the life of a singleton is very complicated, indeed.
Based on the book by Helen Fielding, this film boasts the same screenwriters as its successful predecessor, "Bridget Jones' Diary." But while Sharon Maguire, who directed the first film, did a good job, creating a funny if somewhat crass hit, her replacement hasn't. Biban Kidron's films, which include the 1993 "Hookers, Hustlers, Pimps and Their Johns" and the 1995 cross-dressing "To Wong Foo, Thanks for Everything! Julie Newmar" leave little doubt as to why this sequel dwells so much on Bridget's sex life. In fact, hardly a scene goes by without people in bed or a reference to casual sex. Sometimes, it goes even further, including a lesbian kiss, a prostitute who interrupts Daniel's seduction of Bridget in his hotel room, and a really disgusting question which Daniel poses to Bridget about Darcy's sexual habits.
Zellweger does a very good job with the role – and the accent – just as she did with the original film, which won her an Oscar nomination. But her character is an embarrassment, and this time, we're not sympathetic. She has a better job and wants to be a good journalist, but doesn't even try. Why is she skydiving without an instructor, which lands her in the insufferable comedic standby, the manure pile? Why does her rear-end appear in front of the camera, yet again? And why does she act so childish? I realize that single women are supposed to relate to Bridget's insecurities, but this is ridiculous.
Grant, Firth and Barrett all hold their own as well, but like Bridget, none of them can get away from the fact that their characters have evolved not one iota and are forced into the exact same jokes as before, such as another fistfight between Darcy and Daniel. Even the ending is the same, with Bridget braving the elements in order to reach Darcy. The dialogue has a few good lines, but is mostly recycled humor as well. "It was, as usual, crammed full of perverts disguised as close family friends," Bridget quips, at her mother's annual Christmas curry party (same as before) where she and Darcy again wear silly jumpers (same as before).
Recently on Movie Features
Have something to say about this article? Leave your comment via Facebook below!
advertise with us
Example: "Gen 1:1" "John 3" "Moses" "trust"
Advanced Search
Listen to Your Favorite Pastors