New Reality TV Show Promotes Virtues of Traditional Marriage
Shannon Baker, Baptist Press
Wednesday, September 01, 2004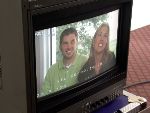 Portraying the commitment in marriage as a positive way of life and as an adventure, "An American Wedding" was hosted by ChristianCafe.com, an online Christian singles website with more than 750,000 members.
"With so many confused, mixed messages about relationships in today's society, our site is a venue where people can safely connect with other people with similar beliefs and values," said Sam Moorcroft, the website's owner.
Designed as a virtual café, the site allows people of varying degrees of spirituality to match up with others based on pre-defined multiple choices, such as "My Christian faith defines who I am" to "I believe in God."
It was on this site that Fuqua, a U.S. Air Force staff sergeant from Pensacola, Fla., met Higgins, an associate worship pastor at Faith Baptist Church in Glen Burnie.
"We have seen God's hand all through our relationship," said Fuqua, 25, who became a Christian in 2002 before moving to Maryland the next year.
Higgins, 22, grew up in a Christian home with his father Raymond, who serves as a church music minister. "Even though our Christian backgrounds are so completely different, the reality of God's grace and guidance is so evident in our lives."
When the couple decided to marry, they entered the "An American Wedding" contest, sponsored by ChristianCafe.com, which sought to promote biblical monogamous, heterosexual marriage values.
"Given our site's overwhelming success, it's obvious there are a lot of people who are seeking relationships that are based on traditional values," Moorcroft said, contrasting society's popular opinion toward tolerance in sexual matters.
"You are swimming against the flow in today's culture, which has sought to redefine and redesign marriage," Ravens chaplain Hairston told the couple in the ceremony. Reminding them that marriage is a great and powerful expression of humility before God, he said, "One of the greatest acts of worship is when a husband and wife make love together. Two people become one in this beautiful expression of spiritual faith."
"The first union that God blessed was the union between man and woman," said Thomas Jackson, father of the bride. "As a society, we have trivialized marriage to the degree that very few people go into it with the idea that it's forever."
He agrees with the premise behind "An American Wedding."
"When we show people about commitment [to these values, to each other] as opposed to just directing them, the message comes across much clearer," he said.
"This wedding is just an extravagant expression of God's love," said Fuqua's mother, Patty Higgins, a fairly new Christian who has remarried. "In the end, after all the hoopla, what Jeff and Jenn will have is a marriage that is based on God's covenant."
"I know God blesses me, but I think He does it for the benefit of others," Fuqua said, noting how her co-workers have taken notice of all the excitement surrounding the generously sponsored wedding event.
"I am just excited about when we walk through the airport on the way to our honeymoon," Higgins giggled as he envisioned the scene. "Hi! You will notice that we have rings on our fingers," he said matter-of-factly. "We just got married ..."
Then with a smirk on his face, he added "... on TV!"
"An American Wedding" is set to air this fall and next spring.

© 2004 Southern Baptist Convention, Baptist Press.  All rights reserved.  Used with permission.
Recently on Movie Features
Have something to say about this article? Leave your comment via Facebook below!
advertise with us
Example: "Gen 1:1" "John 3" "Moses" "trust"
Advanced Search
Listen to Your Favorite Pastors