NEWS FROM THE 'BIZ: July 2005
Annabelle Robertson, Entertainment Critic
Wednesday, July 27, 2005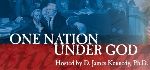 STILL "ONE NATION UNDER GOD" … Just one month after the U.S. Supreme Court ruled that Ten Commandments displays are "impermissible," many are questioning the foundations of faith in our country's government.  But Dr. D. James Kennedy, author of more than 60 books (including "What if America Were a Christian Nation, Again?") and senior pastor of Coral Ridge Presbyterian Church, insists that no matter what spin may be given to America's history, we were and always will be 'one nation under God.'
Kennedy traveled to historic Williamsburg and Yorktown to tape the one-hour program, called "One Nation Under God," which features experts from Mount Vernon, the Library of Congress, American University, and the University of Houston, among others.  From the pilgrims through the Founding Fathers, these scholars offer evidence about the integral role played by religion in the founding of our country.  The special looks into controversial questions such as whether American began as a secular or Christian nation; whether George Washington and the other Founders were deists, as many have claimed; and whether the U.S. Constitution is a "godless document," as many historians insist, or instead the product of a long Christian legal tradition.
"The one point upon which virtually all the Founders agreed upon was that religion played a vital role in promoting social order, civic virtue and political prosperity," says American University scholar Daniel Dreisbach.  Author and historian David Barton, one of Time Magazine's "25 Most Influential Evangelicals," agrees.  "Of the 250 folks that we call Founding Fathers, there are maybe a dozen, maybe five percent, that weren't religious."
"One Nation Under God" will air July 30 and 31 on the nationally-syndicated "The Coral Ridge Hour" and August 4 at 8 p.m. on i (formerly PAX TV).  For more information or local listings, visit www.coralridge.org.

VEGGIETALES ROCKS LIVE … Fans of VeggieTales may want to get out their dancing shoes.  Bob the Tomato and Larry the Cucumber have combined all of the beloved VeggieTales Songs with some new Veggie friends, timeless values and plenty of the wacky humor that VeggieTales afficionados love into a live show for all ages.  Presented like a true concert tour, audiences will be treated to their favorite characters brought to life through interactive video screens, a light show and lots of surprises.  Look for classic silly songs like "Belly Button Song," "Larry Boy," "HIS Cheeseburger," "Water Buffalo Song" and the famous VeggieTales theme song.
The tour will make its way across the U.S. throughout the months of July and August.  For more information and a complete schedule, visit www.bigidea.com/events.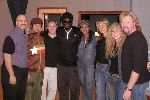 REMEMBER THE ROACH … Squiggz and his six-legged family are back.  After hopping aboard Noah's arc in the first of "The Roach Approach" videos, called "Don't Miss the Boat!" Squiggz is once again bringing to life the values of love, faith, hope and respect while giving us a bugs-eye view of Bible history.
Recently on Movie Features
Have something to say about this article? Leave your comment via Facebook below!
advertise with us
Example: "Gen 1:1" "John 3" "Moses" "trust"
Advanced Search
Listen to Your Favorite Pastors