Nicholas Nickleby: Of Heroes and Family
Janet Chismar, Senior Editor, News & Culture
Wednesday, January 08, 2003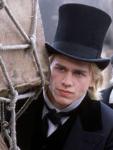 Evil personified, in this case, is Nickleby's Uncle Ralph, played by veteran actor Christopher Plummer. "Ralph Nickleby is a delectable character to sink one's teeth into," said Plummer in the film's production notes. (Plummer was not available at the time of this interview.) "He's a complex man, a businessman whose aim in life has been only to protect his interests and those of his select friends.  Nicholas and his sister are Ralph's nephew and niece, but he doesn't feel the same as they do about the bonds of family - he never has.  At the end of the film, it's that one major flaw for which he pays the ultimate price."
McGrath trimmed down the immense scope of the novel by constructing the film around Nicholas and Ralph - and the notion of family. But, McGrath explained, Dickens does not mean family "in the simplistic and manipulative way that our politicians do.  He means something more complex."
Indeed, in Nicholas Nickleby, one of the villains is a part of the hero's family. "So, though Dickens offers the idea of family as an answer to the problems of a society, his answer carries a question in its wake: what is family? Is it merely one man, one woman, one son and one daughter? Or is it perhaps something larger, more forgiving, more generous in its parameters?
"In my film," McGrath added, "the story is shaped to answer those very questions. My film begins with a narrator asking us, 'What happens if too early we lose a parent, that party on whom we rely for only everything?' At the end of the film, the narrator answers his own question. He says we must 'build a new family, person by person.'"
Producers John Hart and Jeffrey Sharp "fell in love with Douglas' adaptation," according to Sharp. "I felt the story was every bit as relevant to our world today as when it was written.  Dickens was one of the foremost social commentators of his day.  Particularly with Nicholas Nickleby, as its serialization progressed in the newspapers, it uncovered many injustices in the way children were treated at the time.  I also love Dickens's theme of creating a family in the absence of one, which is what Nicholas does throughout his journey."
In looking at the hundreds of characters Dickens created in his writings, Nicholas Nickleby is one of his most pure, Sharp noted. "There are no flaws in Nicholas other than his desire to overcome evil and reunite his family.
"For young people today, it's very hard to find a hero to really root for," he continued.  "There are superheroes - Spiderman, Batman and the like - but I think Nicholas is a character they can relate to from their own world.  In high schools across the globe, students are grappling with issues of violence and evil.  It's important they can identify with a character like Nicholas.  In a world as violent as ours, it's important for everyone."
Recently on Movie Features
Have something to say about this article? Leave your comment via Facebook below!
advertise with us
Example: "Gen 1:1" "John 3" "Moses" "trust"
Advanced Search
Listen to Your Favorite Pastors