On the Road to Glory: Disney Retells a Texas Legend
Annabelle Robertson, Entertainment Critic
Wednesday, January 11, 2006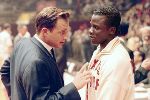 The year was 1966 and, as Charles Dickens would say, it was both the best and the worst of times. 
Families attended church, neighbors knew one another, and mothers could afford to stay home with their children.  The Oscar for Best Picture was awarded to "The Sound of Music" and Frank Sinatra took home the GRAMMY for Album of the Year. 
But overseas, the Vietnam War was about to take a dangerous turn, and tens of thousands of young men would soon lose their lives.  On the home front, another war was raging – a war for equality.
African Americans, who had won the right to vote under the Civil Rights Act just one year before, were still being treated as second class citizens.  Segregation was still a reality, and the right to vote rarely included access to the polling places.  Being black was still very dangerous – especially in the South.
On the basketball court, things were no different.  College teams rarely recruited black players.  Not one school in the Southeastern Conference or the former Southwest Conference had ever offered an athletic scholarship to a black player.  And, on the rare occasion when one was invited to be a part of a team, he stayed on the bench.
Fortunately, one college coach was as determined as he was colorblind.
Don Haskins, a girl's high school basketball coach from Oklahoma,  was hired by Texas Western University (now the University of Texas at El Paso) to coach their fledgling basketball team.  After being unable to recruit, due to lack of funding, Haskins solicited as much scholarship money as possible and headed for the streets, where he signed up the most promising black players he could find.  He then went about training them to play college ball.
Later, when the team started winning, Haskins would be accused of intentionally seeking out black players.  But the Texas Western coach wasn't looking for color, which resulted in an outpouring of hate mail and abuse, toward him, his family and his players.  Haskins was looking for talent – raw talent that could be shaped into a winning basketball team.  And he wasn't about to back down because people were racist.
"Haskins never understood why white players couldn't play against black players and vice versa," said Josh Lucas, who stars as the famed coach in Disney's new film, "Glory Road."  "It made no sense to him.  He just wanted to find the best players that he could recruit – no matter who they were or where they were from, as long as they had that potential.  It was as simple as that to him."
"This was Texas," said Jerry Bruckheimer, who produced the film. "And Texas was not known for the civil rights movement. The [University of] Texas football team did not have a black player until 1969.  So think about that.  That's three years after this team was integrated." 
The story of the Texas Western Miners has since become basketball legend.  That year, with an astonishing 27-1 record, the Miners arrived in College Park, Maryland, where they faced off against the top-ranked University of Kentucky Wildcats in the NCAA Championship.  The most astonishing fact was not the Miners' "Cinderella" 72-65 win over the Wildcats, as amazing as that was.  What made history in 1966 was the fact that only black players appeared on the court – and they did so against the all-white Wildcats.
"What's so interesting about Don Haskins is that he wasn't looking to make any kind of statement.  He simply was driven to win," said Bruckheimer. "Yet in making winning priority, he changed history."
Recently on Movie Features
Have something to say about this article? Leave your comment via Facebook below!
advertise with us
Example: "Gen 1:1" "John 3" "Moses" "trust"
Advanced Search
Listen to Your Favorite Pastors