Oscars 2006: Small Movies Tackle Big Controversies
Christian Hamaker, Senior Editor, Arts & Culture
Monday, February 27, 2006
George Clooney directs and stars in "Good Night and Good Luck," an impressive, timely film about the nature and purpose of journalism, and its privileged role in questioning those in power. In this case, Edward R. Murrow's aggressive questioning of Sen. Joe McCarthy, who was on a crusade to root out Communists and Communist sympathizers within the United States.
The film opens with a sober text scroll, informing us that "few in the press were willing to stand up against McCarthy, for fear that they too would be targeted." The story that unfolds bears this out, as Murrow (David Strathairn), along with his producer, Fred Friendly (George Clooney), use their "See It Now" broadcast to question why an Air Force lieutenant has been publicly humiliated and labeled as a security threat, based on documents that the military refuses to divulge. Murrow uses additional broadcast time to go after McCarthy, who eventually appears on Murrow's program to respond to Murrow's allegations.
With its references to sealed documents, national security threats and "terrorist organizations," "Good Night and Good Luck" is designed to remind viewers that journalists face problems in getting the whole truth today, in the midst of our war against Islamic extremism, as they did during Murrow's time. It's a provocative film, beautifully shot in black and white, with strong ensemble acting. But its efforts to appear timely are hindered by lines such as this one, spoken by Murrow: "A network is defined by its news."
That may have been the case as recently as 10 years ago, but network news viewership has since eroded, and the string of embarrassments – particularly at CBS News, to which "Good Night and Good Luck" pays tribute – are a painful reminder that neither side of the political spectrum finds journalism to be the heroic profession it once was. The Right looks to blogs to break major news stories, while the Left sees a lapdog press corps all too willing to carry the administration's water. And so, for all of its relevant elements, "Good Night and Good Luck" presents an ideal that we rarely see in today's media world. It's a strong film that looks back, rather than a prophetic picture that points the way forward.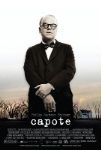 CAPOTE

An unusual film about a highly unusual man, "Capote" tells the story behind "In Cold Blood," Truman Capote's account of the murder of several family members in Kansas. The book launched a new genre – the "nonfiction novel" – and catapulted Capote to great fame. "Capote" recounts the agonizingly long start-to-finish process of writing the book and the heavy toll it took on its author.

When Truman Capote (Phillip Seymour Hoffman), a staff writer for the New Yorker, reads about the murders and the pending trial for two suspects, Perry Smith and Dick Hickock, he heads to Kansas in search of another magazine story. Traveling with him is friend and fellow writer Harper Lee (Catherine Keener), who would soon achieve fame of her own as author of "To Kill a Mockingbird."
After talking with one of the suspects, Capote calls his editor and informs him that he has enough juicy material for a book. Unfortunately, he doesn't have any certainty that the men accused of the crime are indeed guilty, but he's confident that, through his time spent interviewing Perry, he can win Perry's confidence and eventual confession.
Instead, he finds himself drawn to Perry, calling into question his journalistic objectivity, and motives. Is he interested in exonerating Perry and Dick, or in hastening the judicial process, so he can complete his book?
Recently on Movie Features
Have something to say about this article? Leave your comment via Facebook below!
advertise with us
Example: "Gen 1:1" "John 3" "Moses" "trust"
Advanced Search
Listen to Your Favorite Pastors