Oscars 2006: Small Movies Tackle Big Controversies
Christian Hamaker, Senior Editor, Arts & Culture
Monday, February 27, 2006
Capote's homosexuality is portrayed through his ongoing relationship with a male partner, but the film is less interested in the morality of Capote's sexual preference than it is in his slow downward spiral in the face of pressures from his publisher and his methods for extracting information from Perry.
Phillip Seymour Hoffman is winning raves for his portrayal of Capote, and I can only add my own praise for Hoffman and the other principal actors in "Capote." The film is impeccably well made, but it's full of close-ups and interior shots – almost suffocating to watch. As unique and compelling as Capote is at times, its central character remains an enigma – a tragic, rather unlikable individual, who would never again match the acclaim that greeted "In Cold Blood."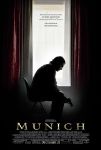 MUNICH

The finest of the five Best Picture nominees, "Munich," a striking look at the effects of terrorism and counterterrorism, was quickly dismissed by many critics, not to mention political commentators, who saw it as a liberal's apology for the "sins" of Israel against the Palestinian people. How sad, because "Munich" is more about the effects of killing on the human soul than it is about who's right and wrong in the conflict between Israel and the Palestinians.
Avner (Eric Bana), a Mossad agent, accepts a request to lead a team of assassins in tracking down and killing the men responsible for the massacre of Israeli athletes by the PLO during the 1972 Olympics. As they carry out their mission (filmed with an appropriate sense of dread, mixed with adrenaline), Avner – a husband and new father – begins to question the motives of his boss (played by Geoffrey Rush). His infrequent phone calls home reveal his isolation and struggles, as he clings to memories of his marriage. A much commented upon reunion scene late in the film mixes images of marital intimacy with Avner's tormented images of death, but more disturbing is the final exchange between Avner and Rush, which reveals a great gulf between the two men.
If approached as a human spiritual drama, the film is one of the most rewarding in recent memory. Of the many reviews I've read for "Munich," no one has better grasped the spiritual heart of this film than has Armond White in the New York Press. He writes: "Today's movie culture has so thoroughly written off the concept of sin that any movie ridiculing it … is guaranteed to be widely praised. This fondness for transgression might explain the trouble Spielberg has run into with 'Munich.' He explicates a grievous sense of wrong-doing that communicates best to those who are open to an Ecumenical view of life (or if that term scares you, Judeo-Christian). 'Munich''s vision is truly Judeo-Christian in that it doesn't confuse morality with politics. It uses one to test the other."
The Ones That Got Away ...
Three other noteworthy films were overlooked in the Best Picture category. "Walk the Line," about singer Johnny Cash, was widely expected to earn a nomination, but instead had to settle for acting nominations for Joaquin Phoenix, who played Cash, and Reese Witherspoon, who played June Carter Cash in the film. The biopic was a crowd pleaser, with some tremendous acting, but its central story of two married people who fall in love with each other didn't show audiences anything they hadn't seen before. The failure to depict Cash's Christian faith was another drawback, leaving the impression that Cash's importance as an artist and individual was largely confined to his days as a rebel against God.
Recently on Movie Features
Have something to say about this article? Leave your comment via Facebook below!
advertise with us
Example: "Gen 1:1" "John 3" "Moses" "trust"
Advanced Search
Listen to Your Favorite Pastors