"Passion" Star Prepares All His Life for Role of a Lifetime
Annabelle Robertson, Entertainment Critic
Friday, February 20, 2004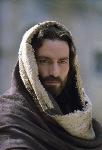 Jim Caviezel isn't just playing Jesus. He's living Him, every single day – in the toughest of places.
"Are you kidding?" answered the star of Mel Gibson's upcoming film, "The Passion of the Christ," on whether his Christian faith plays a role in his everyday life – and in his marriage. "Not having faith and prayer out here, in this place, would be like going to war without a gun."
James Patrick Caviezel, who married his wife, a high school teacher, eight years ago after meeting her on a blind date, received an honorary degree from King's College in Wilkes-Barre, Penn. At the graduation ceremony last summer, he reportedly delivered a "fire and brimstone" style speech to the graduates that left few wondering about his commitment to Christianity.
He also refused to do a sex scene with Ashley Judd in "High Crimes," a decision that is said to have infuriated director Carl Franklin. And, Caviezel admitted, he found himself compelled to tell Jennifer Lopez to put her clothes back on, during an unscripted move during filming of "Angel Eyes."
"Don't get me wrong," he said. "I do love scenes – but not ones with gratuitous sex. I also don't do gratuitous violence. And it's not just about my wife, although that's important. It's sin, pure and simple. I mean, it's wrong. But, I don't like to talk about these things. It's awkward.
"People [in the entertainment industry] are always saying, 'Look, I'm not your kid's role model.' But that's wrong. I don't care how you look at it; we're all role models. And there's a responsibility that comes with that," he said.
"Jesus said that we have to pick up our cross and carry it," he added. "And the way I look at it is, if we don't, the weight of that cross is going to pin us to the ground."
Like most believers, Caviezel's faith has been a process – one that has grown more tangible over the years as a result of God's intervention, sometimes in the strangest of ways. 
Caviezel describes a childhood in Mount Vernon, Wa. that was filled with a sense of God and family. Raised a Roman Catholic, he attended mass with his parents and four siblings every Sunday. Although he said that he did things he describes as "stupid," he was always aware of God and the difference between right and wrong.
"Each time I did [something wrong]," he said, "I would get a feeling inside, a bad feeling. I asked my friends if they got that feeling too, but they didn't know what I was talking about. They were like, 'Are you crazy?' It was like they didn't feel anything in their conscience, the way I did."
One of the pivotal moments in his faith was watching a Billy Graham crusade on television as a teen.
"I remember wanting to be there so that I could go forward with all those people," he said. "Afterwards, I cried and cried. I was really aware of God after that."
There were other turning points, as well, too many to describe during a short interview.
"Faith is a process," he said simply, "and God reveals His truth to us over time."
Caviezel didn't start out wanting to be an actor. His dream, he said, was the NBA, and he was heading straight for it. He played for his college basketball team and, at 6'1", was certainly tall enough to be considered for the NBA.
Those hopes were crushed, however, after Caviezel suffered a foot injury during college. Strangely enough, Caviezel said that he soon got the sense that he was supposed to move to Los Angeles and pursue a career in acting, despite limited experience in drama.
Recently on Movie Features
Have something to say about this article? Leave your comment via Facebook below!
advertise with us
Example: "Gen 1:1" "John 3" "Moses" "trust"
Advanced Search
Listen to Your Favorite Pastors