PBS Series "Colonial House" Enables Family to Share Faith
Bonnie Pritchett, Baptist Press
Wednesday, May 26, 2004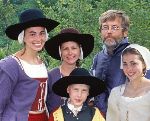 WACO, Texas — Jeff Wyers, playing the role of a 17-century autocratic governor in the PBS series "Colonial House," faced the challenge by turning to prayer.
In addition to trying to communicate the concepts of religious authority alongside the love and grace of Jesus Christ, Wyers – a Southern Baptist pastor – and his family suffered a most public tragedy when the young man who was to become their son-in-law was killed in an auto accident back home.
Even so, God's timing proved perfect and purposeful for the struggles the family from Waco, Texas, faced during the filming of the series.
"Colonial House," which began airing Monday, May 17, and continues May 24-25, follows in the footsteps of three hugely popular PBS series, each placing 21st-century people in an environment unique to a specific time period. The last series, "Frontier House," which aired in 2002, had three families living for three months in 19-century western United States. The show aired repeatedly on U.S. PBS affiliates and in markets throughout the world.
Potentially, millions of people likewise will view "Colonial House," and that, the Wyerses said, is why God allowed them to be a part of the series and why, in the midst of filming the five-month-long project, they faced tests to their faith.
It was on a lark that Jeff and Tammy Wyers filled out the online form for the production in the fall of 2002. They had watched portions of "Frontier House" and laughed at the complaining done by the participants. "We could so do that," Tammy recalled saying. "Those people are such crybabies!" It was while she was on the PBS website looking for the next airing of "Frontier House" that she came across the application form for the "Colonial House" experiment. The new project would have an entire colony of up to 26 people living in 1628 Maine under Puritan law and struggling not only to survive but also to turn a profit for their sponsoring company back in England.
Not long after filing the application, it became apparent that the producers were seriously considering her family for the series.
"Then it became a serious matter of prayer. … We laid out many fleeces before the Lord," Tammy said, referencing Gideon's requests to the Lord for assurances (Judges 6:36-40). The couple knew that the project "was just too big a deal to be a crazy family adventure.... Potentially millions and millions of people would see this."
What they would see, the Wyerses hoped, would be a family not just talking about faith in Jesus Christ but living it out, seeking to be ambassadors for Christ. Jeff, 47, is pastor of Community Baptist Church in Waco and teaches history, health and Bible at Texas Christian Academy where his children attend school. He also conducts creation science seminars.
Tammy, 44, is a homemaker. Their oldest son, Jeff Jr., 24, could not join the family for the production. Their oldest daughter, Bethany, 20, is a student at Mary-Hardin Baylor University in Texas, studying business and religion. Amy, 17, celebrated her graduation from Texas Christian Academy the weekend of May 22 and also will attend Mary-Hardin Baylor. David, who celebrated his 10th birthday while filming "Colonial House," is a fourth-grader completing his first year of school at the academy. He previously had been home schooled.
When it was finally confirmed that the Wyers family would be a part of the "Colonial House" project, it was time to ask their church family for their blessing. The response was overwhelming. Tammy said 99 percent of the people responded with such encouragement as, "Brother Jeff, you just have to do this. How do you say 'No' when God gives you this kind of opportunity?"
Recently on Movie Features
Have something to say about this article? Leave your comment via Facebook below!
advertise with us
Example: "Gen 1:1" "John 3" "Moses" "trust"
Advanced Search
Listen to Your Favorite Pastors