"Phantom of the Opera" Offers Phantastic Legacy to Masses
Annabelle Robertson, Entertainment Critic
Thursday, January 06, 2005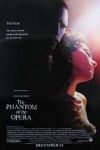 Part of the sympathy we feel for this phantom comes from the addition of a flashback to his childhood, where we witness the understandable source of his distress (as well as his friendship with the ballet mistress). As a result, this phantom is intriguing and beguiling, and his lair, though located deep underground and surrounded by murky water, is lit with far too many candles to appear more than a tad sinister. But it works, and it helps us appreciate why the innocent Christine is so mesmerized by a murderer – an important plot point.
Rossum ("The Day After Tomorrow"), who was 16 when the film was shot, seems born for the role of Christine. She trained from the age of 7 at the Metropolitan Opera in New York and has a beautiful voice that only gets better as the film progresses, as it should. She projects just the right amount of naïveté, without a trace of melodrama – not an easy task in a Gothic love story – and will no doubt become a huge star as a result of this film.
As Raoul, Wilson is at a huge disadvantage, as all Raouls are, because he is pitted against the powerful, dominant character of the phantom. But Wilson pulls his Raoul off well, and he has a good voice. Schumacher's sword fight, which is not in the original production, certainly helps to make him appear less wimpy. In the end, you feel as if Christine must chose between a bad boy genius – albeit one with some nasty physical and emotional scarring – and a wealthy, handsome royal. Hmmm. Life in the dungeon with the brilliant phantom or the sprawling mansion with Mr. Nice Guy – what a tossup!
At 75, Joel Schumacher ("Veronica Guerin," "Phone Booth") has directed both good films and bad. And while he was clearly limited by Lloyd Webber's dictate to follow the musical if not slavishly, then at least very closely, Schumacher deserves accolades. He has coaxed excellent performances from his actors and made additions – not the least of which is the 1917 frame, which serves as a both an introduction and an epilogue – that actually improve the story. And he definitely knows how to transform a woman's bare shoulders and a man's open shirt into some serious va-va-voom.
No one will deny that the costumes, the sets and the makeup are Oscar winning – many times over. But even without the visual extravaganza, this film is definitely the second-best of the year, after "The Passion of the Christ." Unfortunately, Martin Scorsese is well overdue for his golden idol, so he's probably the director that will take it home, for his good-but-not-nearly-as-brilliant "The Aviator."
Whether you're a novice, a theatrical connoisseur or a true "phan" (as those who adore the musical have dubbed themselves), you're likely to agree that Schumacher's "Phantom" offers a phantastic legacy, now available to the masses.

AUDIENCE: Mature adolescents and adults
OBJECTIONABLE CONTENT:
Drugs/Alcohol Content: Various people drink wine/beer/champagne, once from a shoe; characters smoke cigars and pipe.
Language/Profanity: Less than half a dozen mild obscenities and several profanities (mostly "OMG");
Sexual Content/Nudity: Scantily-clad female characters in several scenes (including much cleavage); characters kiss/embrace/caress suggestively; several songs contain sexual allusions (but not innuendo); various statues with bare breasts and buttocks; rear male nudity when male character "moons" another; various actors/stagehands make rude (but not lewd) sexual gestures; brief dialogue exchange between two characters about "lust of the flesh."
Violence: Phantom kidnaps a willing victim and takes her underground to his lair; phantom and love interest fight a dual with swords, where one is injured; background painting depicting a severed head; woman slaps a young girl for gossiping; man pushes young woman to floor in anger; child is physically abused by kidnappers, then escapes and strangles his tormentor; man commits murder by chasing his victim then allowing him to be strangled; man knocks another man unconscious; man falls and is trapped underwater and must fight for his life; man ties up another man, seemingly to kill him, but does not.

Recently on Movie Features
Have something to say about this article? Leave your comment via Facebook below!
advertise with us
Example: "Gen 1:1" "John 3" "Moses" "trust"
Advanced Search
Listen to Your Favorite Pastors