Putting Family First: Mother Olivia Plays Mother Teresa
Annabelle Robertson, Entertainment Critic
Monday, June 12, 2006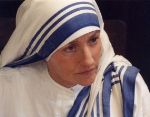 Annabelle:  You're obviously a big fan of animals.
Olivia:  Oh, yes.  I used to have 10 dogs, but I have 3 now.  I also have two rabbits, a cat, a parrot, and four potbellied pigs.
Annabelle:  I take it you don't live in downtown L.A.!
Olivia:  No, we have a house with an acre, and a second property that I bought for the pigs, north of L.A.  We rented the cabin out to a couple of vegetarians who love animals, and we go and feed them.  But we move every 18-20 months with my husband [David Glen Eisley], my daughter, my son and all the animals.  We're free spirits. We can't stay in the same place for long.  I've always had a dream of opening a little shop with unusual things, curios and things, so maybe in Oregon some day.
Annabelle:  You said you don't work a lot.  Why is that?
Olivia:  I'm so sick of these films that promote such darkness.  There should be more films like "Mother Teresa" out there.  You can't rent a film and watch it with your children anymore without watching it first, to make sure it's okay.  They're so dark.  It's vile, I tell you.  I want to say to these directors, "If you want to change the world and make a difference, then don't dwell on the darkness and the evil.  Make something uplifting."  It's exhausting.
Annabelle:  I can see why you liked this role, then.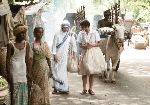 Olivia:  Yes, that's why this project was so close to my heart.  This lady was so amazing.  We can't all be saints, but if we can all be just a little like her and see God in other beings.  See that higher power, whatever that may be for you – it really doesn't matter.  People should start helping others.  The world is in a sorry state, and the more people come out and help others, the more the world will change.  [Mother Teresa] changed the world – yet she was just one person.  She had help later, but she was completely alone at the beginning.  She had nobody.  Even the church opposed her leaving the convent. She picked up a dying woman in the streets – a woman of a lower caste, that no one would accept – and she died in her arms.  She moved mountains, and she moved the world.  She had a will of iron.  If Mother Teresa had thought about all the millions of people she was going to help, she would have been overwhelmed.  But she took it one day at a time, one person at a time.
Annabelle:  What will you do next?  Do you have a project that you're excited about?
Olivia:  I can't waste too much energy thinking about my career.  I don't play that game.  I should have, maybe when I was younger, but I was busy raising my children.  I had my first child when I was 22.  So I take it one day at a time.  I'm focused on my 12-year-old daughter.  The first three years form their entire personality – age three to seven, actually.  If you give them all that love and attention [during those years], it pays off.  If you can afford the luxury, it's so important.  Every time I really want something and pray for it, though, it seems to happen.  So I'm very careful what I pray for.  If I'm meant to go to work, I will.  I'd love to be on a series that's very inspiring, like "Touched by an Angel."  But if it's meant to be it will come. 
Recently on Movie Features
Have something to say about this article? Leave your comment via Facebook below!
advertise with us
Example: "Gen 1:1" "John 3" "Moses" "trust"
Advanced Search