Ramona and Beezus: A Good Story Can Go a Long Way
Laura MacCorkle, Crosswalk.com Senior Editor
Wednesday, July 21, 2010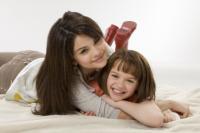 Do you remember where you were when you first encountered a good story?

Perhaps it was during "story hour" at the local library. Maybe it was in Sunday School when your teacher used the flannel-graph to illustrate David and Goliath. Or it might have been when your grandpa sat you on his knee and told you endless tales from his youth.

The circumstances may have gone a little fuzzy in your mind, but even if it's been since childhood, it's highly likely that you've not forgotten the stories that greatly impacted your life. It's the mystery of storytelling and Jesus knew its power as well, as he used parables when first communicating truths to those who were younger in the faith.

Story is also effective in reaching those younger in years. In fact, it's something that parents, teachers, librarians and authors like Beverly Cleary have always known. Perhaps that is why Cleary's children's books have stood the test of time, and why they were chosen by Walden Media—a film studio known for careful work in bringing beloved literary classics to the big screen—to be adapted in the new family-friendly film, Ramona and Beezus.

Over 50 years since they were first published, Cleary's best-selling book series (over 30 million)—chronicling the adventures of a mischievous young girl named Ramona Quimby, her almost-perfect big sister Beezus and a host of other characters, including parents, neighbors and extended family members—is still finding fans amongst young readers today.

Time and again, these stories have been recommended to Micheal Flaherty, president and co-founder of Walden Media, as great source material for film adaptations. And now, with Cleary's confidence that her books are in good hands, the timing is right.

"Beverly Cleary is the patron saint of librarians," shares Flaherty. "For the last 10 years when we've been speaking with folks, they've always recommended Beverly Cleary and her books. And our hope is that by releasing the film, we can embrace the readership of Beezus and Ramona even more."

Director Elizabeth Allen (Aquamarine) and producer Denise Di Novi (The Sisterhood of the Traveling Pants, Eloise) are quite fond of Cleary's books—in fact, Allen remembers first reading the books when she was five and at home sick with the chicken pox. To make the leap from page to screen, both Allen and Di Novi met with the author several times to include her input into the script drafts and make sure the film stayed true to the books' characters.



"When they together presented their vision for the film, that's what won Beverly over," adds Flaherty. "And I also think that what she saw in Joey King—this just unbelievably talented actress that Denise and Elizabeth discovered to play Ramona—I think that that really connected all of the dots."

A relative unknown, King was discovered after a year-long nationwide search to find just the perfect actress to bring such an imaginative thinker and accident-prone little sister like Ramona to life. Older, "goody-goody" sister Beezus is portrayed by a young actress very well known to the 'tween set: Selena Gomez, who rose to fame in her role as Alex Russo on the Disney Channel series Wizards of Waverly Place.
Recently on Movie Features
Have something to say about this article? Leave your comment via Facebook below!
advertise with us
Example: "Gen 1:1" "John 3" "Moses" "trust"
Advanced Search
Listen to Your Favorite Pastors