Ramona and Beezus: A Good Story Can Go a Long Way
Laura MacCorkle, Crosswalk.com Senior Editor
Wednesday, July 21, 2010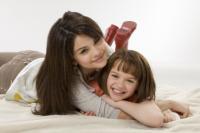 In Ramona and Beezus, the two actresses play sisters believably well as they bring to life stories from a collage of books from the series: Ramona and Her Father, Ramona Forever, Ramona and Her Mother, Ramona Quimby, Age 8 and Ramona's World. Earlier books in the series—like Beezus and Ramona—are not featured as these stories feature a much younger Ramona (only four at that time in the series), and filmmakers wanted to cast an older Ramona (age 9) in the film.

Still, readers will feel right at home knowing the Quimby family's house is true to the books with a setting in a quaint neighborhood in Portland, Oregon, on Ramona's beloved Klickitat Street. But those unfamiliar with the series should still be able to connect and need not know the books to see the film.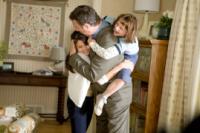 "This is a refreshingly new family film," explains Flaherty. "It's about a family experiencing what a lot of families are experiencing right now. The dad loses his job, the mom has to get more hours at work, the kids are nervous about having to move and give up their house and establish new friends. It's very relatable and shows how when a family sticks together, how inspiring that is and how we can all help each other through different crises."

Finding stories rich with meaning and life application like those from the Ramona series is the heart of what Walden Media does, says Flaherty. Later this year, another adaptation will likely be met with the same amount of enthusiasm by its fans: the studio's highly anticipated third installment in The Chronicles of Narnia series will hit 3D and 2D theaters with The Voyage of the Dawn Treader in December.

But Narnia success or not, Flaherty says Walden doesn't simply want to be known for book adaptations.

"We have a documentary coming out in October called Waiting for "Superman" which examines the education crisis that we have in this country and really looks at education as a social justice issue in terms of how do we make sure that we're all accountable for the fact that every kid, regardless of background, deserves a world-class education."

Walden also has its own children's book imprint (a joint venture with HarperCollins) which means the studio won't have to look too far for future source material.

"We're starting to publish our own books and that's really fun because we're finding great manuscripts," Flaherty explains. "So far we're adapting two of those: a book called Cosmic by Frank Cottrell Boyce and another book called Savvy which is going on its fourth month on The New York Times bestsellers list."

For now, though, Flaherty's sights are set firmly on the adaptation of Ramona and Beezus and how filmgoers will respond.

"We just had a screening [of Ramona and Beezus] last night for a lot of friends … and I can truly say it was one of the best reactions I've ever seen from a film. It was the classic sort of situation where people laughed and cried, but everybody walked out of there completely inspired."

And hopefully young filmgoers will also walk away inspired, too—perhaps even, during the remaining carefree days of summer, to take a trip to the library and check out Beverly Cleary's books before heading back to school next month.

Flaherty's own children are already big Ramona fans themselves—including his young son. "That's the mastery of Beverly Cleary," he says. "Beverly first started to write these books to try to find books that boys would be attracted to. And I know people hear the name 'Ramona' and they think girl, but I know a lot of boys—and my son and a lot of his friends included—enjoy these books as well."

Beyond a love of reading and literature, Flaherty also hopes that those who see Ramona and Beezus will take away a message about the importance of family.

"What we would love to see from this is for families to realize that with love and perseverance you can tough it through the most difficult times. And you can emerge from things stronger, happier and healthier."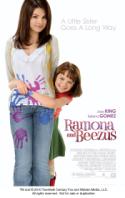 Produced by Walden Media and distributed by 20th Century Fox, Ramona and Beezus releases wide in theaters on Friday, July 23, 2010. For more information, please visit here. To learn more about Walden Media's films and books, please visit here.

**This article first published on July 21, 2010.

Recently on Movie Features
Have something to say about this article? Leave your comment via Facebook below!
advertise with us
Example: "Gen 1:1" "John 3" "Moses" "trust"
Advanced Search
Listen to Your Favorite Pastors