Skyler Day's Leading Lady Dream Begins with "Ociee Nash"
Annabelle Robertson, Entertainment Critic
Wednesday, September 07, 2005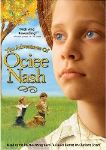 Annabelle:  So how do you combine school and a career, and do well at both?
Skyler:  I started homeschool after second grade, after missing 45 days of school that year. 
Kelly Day:  Academically, she was doing fine, even though she was missing a lot, but everybody was freaking out.  I later found out that it was not an academic concern, but a money concern, related to attendance.  So I began homeschooling all four children.
Skyler:  I do practically everything in the car – all my subjects, everything.  I try and get as much as I can done, so I have enough time.
Kelly:  It also makes the ride go quicker.  When I was homeschooling in Georgia, I would spend between $3,000 and $5,000 to homeschool three kids.  But in California, the schools are so over-packed that they actually encourage homeschooling.  We meet with a teacher once or twice a month who gives us assignments, books, everything.  I grade the assignments and I help her, but if I don't understand something, the teacher explains.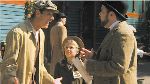 Annabelle:  What do you like most about "Ociee Nash?"
Skyler:  I like that it's a great, Christian, G-rated movie that little kids can see.  Parents don't have to worry.  Little kids always ask where the character's mom was, though.  That, and how much money I made and what kind of car I drove. I'm like, "Well, I'm just 14, but my mom drives a minivan!"
Annabelle:  What do you and Ociee have in common?
Skyler:  She was like me – not in the tomboy way, though. She was brave and she went for what she wanted and knew what she wanted, and she wouldn't stop until she got it. She didn't care what other people thought of her.
Annabelle:  You've moved from Georgia to Los Angeles to pursue your career.  That's one big move – not just geographically, but also culturally and emotionally.
Kelly:  It was really a good move for all of us.  We owned a gymnastics training center for 24 years, outside of Atlanta, and were ready to try something new.  My husband now works as a recruiter in the construction field.  It was a major leap of faith, though.  We came out without a place to live, and we had a few friends – like the director of the film – but otherwise we didn't know many people.  But we're managing.  Each month it gets a little better.
Annabelle:  What do you love most about acting and why do you want to be an actor, Skyler?
Skyler:  I just love being able to do what I like to do and have it as a career.
Kelly:  We'll stay away from the Britney Spears and Christina Aguilera stuff, though.
Annabelle:  Skyler sings.  Has she considered auditioning for "American Idol?," when she's old enough?
Kelly: No, because you can't come in with a manager or an agent.  If you do, you have to drop them. They own those kids for 7 years.  Own them.  
Annabelle:  What role does your Christian faith play in all this?
Skyler:  I want to be a good Christian role model (prompted by mother).  Lindsay Lohan had a great thing going, then she totally blew it.  I don't want to be like her.  I want to be like Hilary Duff or Reese Witherspoon.  They're amazing.  I love them, and they're always on it.  They're just so awesome.
Recently on Movie Features
Have something to say about this article? Leave your comment via Facebook below!
advertise with us
Example: "Gen 1:1" "John 3" "Moses" "trust"
Advanced Search
Listen to Your Favorite Pastors