Stage "Prairie" Lacks the Depth of Previous Incarnations
Mark Steele, TheFish.com Contributing Writer
Thursday, November 12, 2009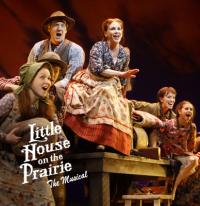 Tour Dates: November 10, 2009 (Tulsa, Okla.); in select cities nationwide through June 2010 (click here for a complete list)
Run Time: 2 hrs., 35 min.
Direction: Francesca Zambello
Musical Direction: Richard Carsey
Choreography: Michele Lynch
Actors: Melissa Gilbert, Steve Blanchard, Kara Lindsay, Kevin Massey, Kate Loprest, Alessa Neeck, Carly Rose Sonenclar
Every Monday evening, circa 1980, my mother would curl up in the corner of the couch with the living room lights off. She would view the weekly installment of the television incarnation of one of her favorite written chronicles: the life of Laura Ingalls Wilder. Like clockwork, every Monday, approximately 48 minutes into the episode, my mother would become a heap of tears. This was the storytelling mastery of Michael Landon.
This week, I joined 2,000 others at Tulsa Performing Arts Center in Tulsa, Okla., in witnessing the newest variation on this century old story: Little House on the Prairie, The Musical. An Ingalls tale without Landon. A history book without a soul. This time, there were very few tears.
Certainly some might deem it unfair that I would bring the beloved television series into a discourse of the stage play. But, of this I am required, because the play assumes the entire audience has already established goodwill for the story by way of our experience with its television and literary counterparts. In fact, it banks on this goodwill carrying us through what is an otherwise cumbersome and disjointed first act. This scattershot hour tests our patience by fumbling through a CliffsNotes versions of several books (and/or seasons). It plays like a "previously on …" segment with lesser music backing it up.
For the uninitiated, Little House chronicles the hopes and travails of the Ingalls family (Pa, Ma, and their three daughters) as they cross the American landscape in the early 1880s and settle in the wild frontier of the Dakotas. The story focuses primarily on middle daughter Laura (who authored the books upon which the musical is based) and her life and love in Walnut Grove. To this end, Melissa Gilbert, who cemented the television role of Laura Ingalls Wilder, rings the nostalgia bell by playing the role of Ma. Unfortunately, where Gilbert was charming and feisty as young Laura, here she is woefully miscast and, above all, misdirected. This is saddest of all, as Gilbert has a resume full of winning performances that prove she is not the cause of this covered-wagon-wreck.
Director Francesca Zambello has made an enormous error in judgment by setting a tone of hyper-reality, where beloved characters become caricatures and Nellie Oleson might as well have "I'm this show's Glinda" stitched into her bodice. One can only assume that this is the result of test-performances and the meddling of producers who write checks. The end result is a fiasco that smells of something that once worked, but has now been workshopped into a hybrid of profitable shows and styles that have nothing to do with one another. The staging is whimsical and clever enough. It is the characters who fall flat. The role of Pa, so tender and wise in the books, is a blustering one-note cartoon as played by Steve Blanchard (Beauty and the Beast), and Alessa Neeck's (older sister Mary's) triumphant singing voice is done-in by a weepy interpretation of her blind journey.
And the music? I am a fan of Rachel Portman's film scores, but here she serves an ongoing mélange of tunelessly unmemorable moments. Why are the women's solos written in a key so low, they seem to be composed for men? Why on earth is there no duet (or even one truly moving exchange of dialogue) for Ma and Pa while Mrs. Brewster (a character who serves no purpose but to make Laura fear marriage) reaps a juicy, if nonsensical, second act solo? At times, the sparse melancholy tunes seem to be striving for the sobriety of Barbara Damashek's Quilters—the next moment, they attempt to echo the turn-of-the-century nostalgia evoked by Stephen Flaherty's score to Ragtime (at times, aping portions of Flaherty's melodies entirely). Unfortunately, instead of stimulating emotional recall, these attempts simply remind us that other musicals have done all of this better.
Recently on Movie Features
Have something to say about this article? Leave your comment via Facebook below!
advertise with us
Example: "Gen 1:1" "John 3" "Moses" "trust"
Advanced Search
Listen to Your Favorite Pastors