The Voyage of the Dawn Treader: An Epic Journey Within
Laura MacCorkle, Crosswalk.com Senior Editor
Wednesday, December 08, 2010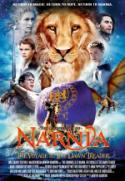 There's great power in great storytelling. Jesus knew it, C.S. Lewis knew it and people of every color, class and creed worldwide know it today as well.

Messages communicated by way of story can go deeper. Lessons learned through powerful life transformations can resonate. And when our imaginations are profoundly engaged, there's no telling what any one of us can take away and apply to our lives going forward.

Lovers of The Chronicles of Narnia book series and the major motion picture franchise that has yielded The Lion, the Witch and the Wardrobe (2005) and Prince Caspian (2008) also know this to be true. And with great anticipation we have waited for the latest book adaptation to hit the screen this holiday season—The Voyage of the Dawn Treader, which opens wide in theaters in both 2D and 3D on December 10, 2010.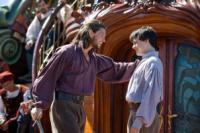 A Return to Hope

Billed as a film that returns "to the hope and wonder of C.S. Lewis' beloved world," The Voyage of the Dawn Treader take us back to the days of Narnia by way of an amazing ship on a journey to five mysterious islands. The time period is three Narnian years after Prince Caspian (wartime England, circa 1943), and brother and sister Edmund (Skandar Keynes) and Lucy Pevensie (Georgie Henley) are staying with their annoying cousin Eustace Scrubb (Will Poulter) near Cambridge, England, while older brother Peter is away studying for university entrance exams and older sister Susan is on holiday with their parents in the U.S.

As inferred in the book's first sentence—"There was a boy called Eustace Clarence Scrubb, and he almost deserved it"—Eustace certainly is a loathsome character. He dislikes his cousins and apparently has made it his mission to make their lives miserable while they're staying with his family. He bosses, he bullies and he makes fun of his cousins' talk of their secret country of Narnia. Until … he finds himself transported to that world.

While staring at a painting in Lucy's bedroom, the Pevensies notice that the ship depicted in the choppy waters looks very Narnian. After Eustace joins them and begins taunting them, Lucy sees that the ship appears to be moving before her very eyes. The waves begin rolling and pretty soon water is splashing out from the painting, onto the children and flooding into the room. The wind blows through and soon everything is upended. When Eustace tries to stop the proceedings by pulling the picture off of the wall, he only succeeds in bringing himself, Edmund and Lucy into the painting and sinking the bedroom into Narnia's Eastern Sea.

Once the three swim to the surface, there they behold the majestic Dawn Treader and are soon rescued and standing on its deck. From that point, the story sets its course with King Caspian (Ben Barnes) and the warrior mouse Reepicheep (voice of Simon Pegg) on a journey to find the seven lost Lords of Telmar, who are the best friends of Caspian's murdered father. Along the way, the voyagers encounter magical creatures, sinister enemies and face their greatest temptations before being reunited once again with the "Great Lion" Aslan (voice of Liam Neeson).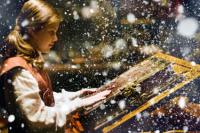 For Kids Big and Small

"Fear and temptation are the principal issues the characters face," explains director Michael Apted (The World Is Not Enough, Coal Miner's Daughter, Nell). "And those themes point to the Narnia books' weight and substance. The film reminds us that you have to know yourself to deal with temptation and fear. That, too, is part of becoming an adult."

As to why Lewis' story is still so appealing to children big and small in the twenty-first century, Apted points to the supernatural. "I think on an obvious level it's got magic in it," he says. "I think kids like—whether it's Star Wars or Narnia—being taken into another world. Kids are very imaginative, and they can make that leap. And I hope that they also see something else in Lewis and in Narnia—some kind of sort of moral sense if you would, not heavily articulated, but with some goodness in it. I like the idea of making sort of an action film that a) has a lot of human emotion in it and b) has a spiritual aspect to it as well. I think it's good in this day and age to put that on the table with children's entertainment."
Recently on Movie Features
Have something to say about this article? Leave your comment via Facebook below!
advertise with us
Example: "Gen 1:1" "John 3" "Moses" "trust"
Advanced Search
Listen to Your Favorite Pastors