The Voyage of the Dawn Treader: An Epic Journey Within
Laura MacCorkle, Crosswalk.com Senior Editor
Wednesday, December 08, 2010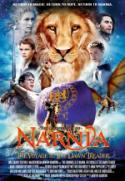 "Reepicheep sort of serves as a mentor and kind of a superior who shows him the error of his ways and that allows Eustace some opportunities for self reflection and self evaluation," Poulter continues. "And as a result of that he becomes a better, purer person at heart. Temptation is a huge theme in this film, and it has actually affected Eustace to a great degree."

A Star Is Transformed

A relative unknown who made his professional acting debut as school bully Lee Carter in the comedy-drama Son of Rambow (2007), 17-year-old Poulter credits the inspiration for his breakthrough portrayal of "a complete brat" to C.S. Lewis himself, as well as to screenwriter Michael Petroni who adapted the book for screen. The London native was discovered by a casting director at the secondary school he attends (Harrodian School) where the drama department is always on the local film/TV industry's radar for new talent.

Considered a "rite of passage" for all British children, reading The Chronicles of Narnia was something that Poulter had already begun before seeing The Lion, the Witch and the Wardrobe five years ago. At the time, he had not yet begun acting nor did he realize he would one day play Eustace in The Voyage of the Dawn Treader.

"I never thought in a million years I'd be playing a part in the third [Narnia] film," he admits. "Not in a million years. These films are so prestigious, and I thought they'd made a mistake and I'd slipped through the net. It's something that has such an incredibly dedicated and faithful following as well. The fact that a piece of literature—one man writing a book—can touch so many people is incredible. That is really admirable, and I think people forget that. It's ultimately the writer, and it's his influences and his abilities to touch so many people in that way. I think it's very, very admirable. And I was very, very proud to be part of that."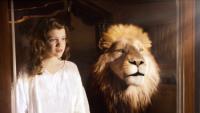 She's So Lovely

Georgie Henley, who portrays Lucy, also read the books as a child and relishes playing a more multi-faceted and evolving character who appears in this third film. Now that Lucy is on her way to becoming a young woman, she has her own battles to face and her own temptations to overcome as well. In the film, as in the book, Lucy must fight the temptation of vanity and her desire to be beautiful like her sister Susan and her own resulting jealousy. This very real struggle with self-image is what Henley wanted to convey to young girls who may be watching the film, as she is able to identify with these issues in her personal life as well.

"I guess one of the main challenges that I faced is that I wanted to make Lucy as accessible and as relatable as she could possibly be to young girls who were facing the same issues that she was going through with insecurities and vanity," she explains. "She definitely goes through a really hard time and it was really wonderful to play a more three-dimensional character in which she wasn't so sweet and nice all the time. She had a slightly darker side, and that was really wonderful to relay that message to the audience watching the film."

As the only major female character in the story this time out, Henley admits she did have some fun "playing with the boys"—especially when it came to rehearsing for her stunts and fight sequences.

"It was really great actually, because I've always liked bringing a little bit of 'girl power' to the table. And it was really fun to train up with them when we were doing stunts and things, because they were much better at it than I was. So they really kept me going. They're such good guys, and I had a fun time filming with them.

"We had quite a lot of fitness exercise. And then we learned the basics of kickboxing, because the movement of kickboxing is basically the same as holding swords. It's basically just punching with a sword. I also got to do some archery which was amazing, and we did quite a bit of harness work as well."
Recently on Movie Features
Have something to say about this article? Leave your comment via Facebook below!
advertise with us
Example: "Gen 1:1" "John 3" "Moses" "trust"
Advanced Search
Listen to Your Favorite Pastors