The Voyage of the Dawn Treader: An Epic Journey Within
Laura MacCorkle, Crosswalk.com Senior Editor
Wednesday, December 08, 2010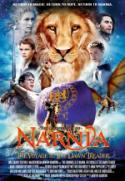 Henley also reveals that The Voyage of the Dawn Treader just happens to be her very favorite book in The Chronicles of Narnia series, as she points to it being packed with "adventure"—due in part to the story taking place, for much of the time, on a ship as well as on the various islands she and the rest of those aboard The Dawn Treader encounter.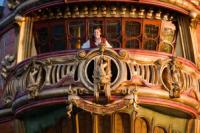 Not Just a Prop

She admits that her favorite scenes are those that were shot while on The Dawn Treader, and that's something Poulter agrees with wholeheartedly as well.

"I'll never forget being on that boat," he says. "It was literally a piece of art. I don't think I'll ever get an opportunity to work on such an incredible piece of set again. It was a true privilege to be on there. And so much work went into it and hundreds of people helped to build it. The chance to do that was just fantastic."

As the title character of the film, The Dawn Treader had to embody everything that Narnia is—especially since the story never actually takes the Pevensies, Eustace, Caspian or Reepicheep to Narnia. "When you're in The Dawn Treader, you're in Narnia," says Apted.

And under Apted's watchful eye, over an eighteen-month period production designer Barry Robison built The Dawn Treader with a team of draftsman from Mexico City and Baja. Inspired by a replica of Captain James Cook's boat The Endeavor (which sits in the harbor in Sydney, Australia), Robison wanted the boat to be much more than just a prop.

"The Dawn Treader was crucial because it's the star of the movie," Apted explains. "Once Barry designed its shape and scale, you could see his love and caring in the details. The craftsmanship was brilliant and as it came together it was thrilling for all of us to see. We're probably on The Dawn Treader for nearly half the film, so it needed to be something to look at. To experience this jewel on which no expense had been spared, and into which so much attention had gone, I think really inspired us all."

During the entire 90-day production in late summer/early fall of 2009, the cast and crew of The Voyage of the Dawn Treader called Queensland, Australia home. Studio work occurred at several sound stages in Gold Coast, and location work also included a seaside peninsula northeast of the studio called Cleveland Point where The Dawn Treader was situated for over three weeks of outdoor filming.

The Keeper of Narnia

Also on set was Douglas Gresham, stepson of C.S. Lewis ("Jack") and executive producer of the film. And according to producer Andrew Adamson, his input was invaluable.

"I think Doug has always been a huge asset to us in that he's the one of us that actually knew Jack and was really able to sometimes get to the core of things," explains Adamson. "I mean you read the book and interpret it—everyone reads a book differently and interprets it differently. But sometimes it was great to be able to go back to [Doug] and say what was Jack thinking with this particular intent. So I think he's always been a huge asset to provide us with that voice."

For Gresham's part, something he refers to as "fanatical Narnian purist," he is pleased with the end result of The Voyage of the Dawn Treader on film and feels it is a vivid representation of the message his stepfather was trying to convey when he put pen to page over fifty years ago.

"I hope that [moviegoers] will see the temptations in their own lives that are reflected on the screen. No matter what faith or creed you belong to, you know that your kids are going to do bad things because they're tempted to do them and I think we need to teach our children about that and how to deal with it. The Voyage of the Dawn Treader goes a long way to helping us do that."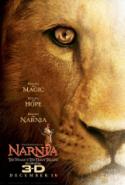 Starring Georgie Henley, Skandar Keynes, Ben Barnes and Will Poulter, 20th Century Fox/Walden Media's The Chronicles of Narnia: The Voyage of the Dawn Treader releases wide in theaters on December 10, 2010. Please visit Crosswalk's Narnia Channel to read more about The Voyage of the Dawn Treader, C.S. Lewis and The Chronicles of Narnia book series.

Photos courtesy of 20th Century Fox/Walden Media.

**This article first published on December 8, 2010.
Recently on Movie Features
Have something to say about this article? Leave your comment via Facebook below!
advertise with us
Example: "Gen 1:1" "John 3" "Moses" "trust"
Advanced Search
Listen to Your Favorite Pastors