Unlikely Heroes Run Their Own Races in Secretariat
Laura MacCorkle, Crosswalk.com Senior Editor
Wednesday, October 06, 2010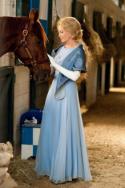 "Do you give the horse his strength or clothe his neck with a flowing mane?" quotes Academy Award nominee Diane Lane in the prologue of Walt Disney Pictures' newest uplifting film, secretariat.

This powerful voiceover sets the scene and continues with the rest of the passage from Job 39:19, before telling the true story of the 1973 Triple Crown-winning racehorse Secretariat and his "housewife" owner Penny Chenery Tweedy—both becoming unlikely heroes while making their own marks in history.

"We shot the movie without the idea of a prologue," explains director Randall Wallace (We Were Soldiers, screenwriter of Braveheart). "And when we put together the first assemblage of the film, we opened as we always had in the script with Penny and her family, but there was a long gap between that and the first horse-racing [scene] and I wanted to remind the audience of that and that what was coming was something dramatic and physical and mysterious. … That passage spoke to the idea that life, if we open up to it, cannot only be as good as we hope it can be but better than we ever imagined."

To portray this remarkable tale, Wallace opens with a family mealtime scene in the Denver, Colo. home of Penny (Diane Lane), the daughter of a horse owner and breeder who is married and raising a family of four. The phone rings, and she is unexpectedly summoned to help run the family business after her mother passes away and her ailing father, Chris Chenery (Scott Glenn), is unable to continue managing the Virginia-based Meadow Stables.

In a flashback, we hear Chris tell a young Penny to "run your own race" as he walks with his daughter hand-in-hand through the stables on their farm. Little does Penny know what kind of race she will ultimately run as a woman who must navigate the male-dominated business of horse breeding and racing, and that she will one day foster the first Triple-Crown winner in 25 years.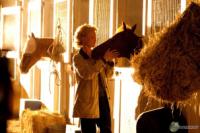 Meeting a Legend

"I really wanted to stay present with this living legend and do right by her and earn her trust," shares Diane Lane upon first meeting the real Penny Chenery Tweedy.

Known as "The First Lady of Horse Racing," Tweedy had held on to her rights for a long time despite having many offers to see the story of Secretariat on the big screen. Not until Disney approached her, though—with a team that was already put together, including Wallace and Lane—did she give her consent and let it be told. She was so supportive, in fact, that the 88 year-old appears as an extra in Secretariat and can be seen cheering in the stands when Secretariat wins the Kentucky Derby.

"We bonded on a couple of issues," continues Lane, "and I think the main one was that we're sort of daddy's girls who made good, you know? … I think if you look behind the curtain of the life of women who are admirable, you'll find a father who instilled a sense of something to live up to in them."

In the film, Penny's love for her father is clearly alive and well as she rearranges her life and somehow makes time in her busy schedule as wife and mother to grab this opportunity by the reins and save the family business.

But 1973 was another place and time. "It didn't occur to me that I was in a man's field," reflects the real-life Tweedy. "I just thought I had the best horse."

A graduate of Smith College, she also went on to the Graduate School of Business Administration at Columbia after her father encouraged her to do so. "After college, I wasn't married and wasn't working in the horse business," she says, "and my father said, 'Well, you need to go to school and learn something that will help you get a job.'" And so she did, but afterward Tweedy took an 18-year break to raise her family.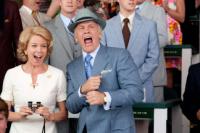 Getting Down to Business

The film picks up when Penny decides to get the family stables back on track, and reinvents herself—much to the disbelief and initial skepticism of not only her husband, but also to established movers and shakers in the horse industry who wonder what this "housewife" (an intentionally derogatory label that she repeatedly encounters) is doing in their world.

Surprisingly her lack of actual experience doesn't stop her, as she quickly takes care of some pressing "housekeeping" issues: she first fires one shifty horse trainer who she suspects of fraud and hires another more eccentric veteran (John Malkovich) who comes highly recommended but has his own past failures—as well as "interesting" wardrobe choices—to overcome.

Penny then turns her attention to inventory and studies up on the bloodlines of Meadow Stables' horses, so she'll know what she's working with when it comes to breeding decisions. She also consults with family friend and horse farm owner Bull Hancock (Fred Dalton Thompson) who gives solid advice to the ambitious novice. Her common sense and natural business savvy serve her well as she prepares for an upcoming coin toss—a pivotal moment in the film.

In an earlier agreement before his health declined, Penny's father and another preeminent horse owner and breeder, Ogden Phipps (James Cromwell), had struck a deal that would rest on a coin toss: whoever won would get first pick of two foals produced by Phipps' stallion Bold Ruler and Chenery's mares Hasty Matilda and Somethingroyal.

Because of her research, Penny already knows that even if she loses the toss, she will still win the better foal with the stronger bloodline and banks on the fact that Phipps will go with the most obvious choice.

Her intuition is right, as the loss is a blessing in disguise: a horse that would one day be named Secretariat and become what may have been the greatest racehorse of all time.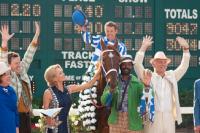 For the Love of Horses

Back in the early '70s, though, horse-racing was still more of a family sport and did not have the connotation that it has for many today.

"I was 8, and I loved it," remembers Lane of Secretariat's win at the Belmont Stakes in 1973—the final "jewel" in the Triple Crown, a triumvirate of races which also includes the Kentucky Derby and the Preakness Stakes.

"I do recall very much that it was like smelling a rose after all of the complaining and bitterness and squawking of the cynicism of the day. You know, Watergate and the Vietnam War and the disparity of the economy and the generation gap, gay rights, women's rights—everybody was up in arms about something. And here I am this kid listening to everybody, and they all got quiet. And they all were grateful for a moment for the simplicity for the gift of joy that this horse enjoyed about himself."

Lane's life-long love for horses and riding only brought a sense of authenticity to her role as Penny, and affected how she interacted with the horses while on set.
Recently on Movie Features
Have something to say about this article? Leave your comment via Facebook below!
advertise with us
Example: "Gen 1:1" "John 3" "Moses" "trust"
Advanced Search
Listen to Your Favorite Pastors