What a Girl Wants Movie Review
Holly McClure, Movie Reviewer
Friday, April 04, 2003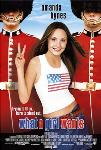 Genre: Comedy
Rating: PG (for mild language)
Release Date: April 4, 2003
Actors: Amanda Bynes, Colin Firth, Kelly Preston, Jonathan Pryce, Eileen Atkins, Anna Chancellor, Christina Cole, Tom Harper, Oliver James, Chris Mulkey, Erik von Detten
Director: Dennie Gordon
Special Notes: Oliver James is a real musician who wrote the songs that he sings in the film. The cinematic name of Dashwood happens to be the real name of the English family who actually live in the "Dashwood" estate used in the movie.
Plot: Daphne Reynolds (Bynes) is a teenage girl who loves her single, musician mother Libby (Preston) but longs to meet the father she's never known. All Daphne knows is that her mother loved him very much but the two parted before Daphne was born. As she listens to her mother sing at weddings, she dreams of being the girl who gets to dance with her father on the dance floor. One day she impulsively decides to hop a plane to England and meet her father before she enters college. When she arrives she discovers that her father is none other than Lord Henry Dashwood (Firth), an influential, high profile politician. Not only is Henry in the middle of a political campaign (he recently stepped down from the House of Lords and is running for Parliament as a commoner) but he's just announced his engagement to a socialite (Chancellor) with a snooty debutante daughter (Cole). At first, Daphne's sudden presence provides fuel for a scandal which could hurt Henry's career but Henry feels he should get to know his biological daughter and integrate Daphne into his new life. Daphne's American style and outgoing personality soon clash with the stuffy British aristocrats, and she's forced to change her ways and conform to a proper image to fit in. Along the way Daphne falls for a charming local musician (James) and tries to be happy in her new role, but soon discovers that a fairy tale life is no good unless you can be yourself.
Good: This fairy tale-come-true is filled with romance, adventure and family love that will appeal to kids as well as younger teenagers. I liked the fact that this story focuses on how important it is to be yourself and not try to be something you're not just to please others. I also appreciate the importance placed on the need to have both parents in a child's life. I like the fact that Daphne has a great relationship with her mother and loves her deeply but something in her craves to meet (and have a relationship with) the father she's never known. Although Libby hasn't spoken to Henry since she left under mysterious circumstances, she still wants what's best for her daughter and understands her desire. Since divorce is such a prevalent part of our culture, I think these issues are very real dilemmas that a lot of teenagers find themselves in these days. Daphne makes the important step to get to know the father she's never met. When Henry discovers he had a daughter with the only woman he's ever loved, it changes his life and future as well. I like the way Daphne and Ian's relationship is portrayed as mature and healthy, with a little fairy tale ending for them as well. This movie has something for everyone; physical comedy, romance, witty dialogue, a few musical numbers with lots of dancing, carefree scenes of a father getting to know his daughter, a supportive mother-daughter relationship, interesting London locations and a compelling story. Bynes is perfect for this role with her wholesome looks and outgoing personality. I enjoyed the father-daughter chemistry between she and Firth; the two have some very sweet scenes that make the movie work (they go shopping, get henna tattoos and ride a motorcycle together).
Recently on Movie Features
Have something to say about this article? Leave your comment via Facebook below!
advertise with us
Example: "Gen 1:1" "John 3" "Moses" "trust"
Advanced Search
Listen to Your Favorite Pastors