A Severe Mercy
David Jenison, CCM Magazine
Monday, May 24, 2004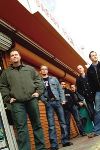 "My wife's only brother, Chris, was killed in a car wreck on Jan. 3," says lead singer and primary songwriter Bart Millard, sitting with his MercyMe band mates backstage at the Charleston Civic Center. "Chris was the eighth person to pass away in a four-week period who was somehow connected to our lives."
MercyMe's new album, "Undone" (INO), had essentially wrapped by the time of the auto accident; but the group quickly recorded and included "Homesick," a memorial inspired by this domino-like string of fatalities. Hitting the road in preparation for the new disc's arrival, the six-member band took time in the Mountain State capital (Charleston, W.V.) to discuss the new album; yet Millard's cell phone buzzes several times during the interview. He politely ignores the phone calls as he continues discussing the anguish of losing eight loved ones, all the while not knowing he'd just lost a ninth.
"I Can Only Imagine," the group's career song inspired by the death of Millard's father, catapulted MercyMe into the mainstream in 2003, capping a series of successful runs for a song first released in 1999. "Imagine" made its debut on the group's self-released disc "The Worship Project," which went on to sell 60,000 copies and helped the group land a contract with INO Records. The song reappeared on its 2001 label bow, "Almost There," on its way to winning a Dove Award for "Song of the Year" and turning MercyMe into Christian music's fastest-selling new group that year. Remarkably, the band was already supporting its follow-up album, "Spoken For," when Dallas' Wild-FM spun the song as a gag to silence an eager fan who kept requesting it. One spin later, the station's phone lines fired up, the song went to No. 1, and the "Imagine" radio wave began sweeping the FM dial from coast to coast.
Whereas "Imagine" paints a celestial portrait for those who have left us, "Homesick" addresses death from another perspective. Millard explains, "The difference with 'Homesick' is that it talks about those who are stuck around here after someone passes away. When you lose somebody, you learn what being homesick is really about. It's a hard thing. It shapes who you are."
The first loss came early this past holiday season. A friend five months pregnant with twins lost her babies; but with the pregnancy so far along, the doctors had to induce labor to remove the deceased infants. Millard, who sang "Imagine" at the babies' funeral, went home that night and wrote the chorus to "Homesick," though he couldn't write much more.  "I didn't want to fake my way through it," he says, explaining why he didn't finish the song that night. "My dad passed away 13 years ago, and I just couldn't recall what such a tragedy felt like."
Throughout the month of December, the names of lost loved ones piled up as tragedy struck the families of band members, management and several hometown friends. The eighth casualty, thought to be the last, involved Millard's 20-year-old brother-in-law. "Needless to say, what I didn't remember came back quickly," says Millard. "We finished 'Homesick' and sang it at Chris' funeral." After a pause, he adds, "We never meant to write a sequel to 'Imagine.'"
A few hours after the interview, MercyMe takes the stage, performing favorites from its platinum-selling albums, "Almost There" and "Spoken For" (INO). Fanned across an enormous stage, the six members – Millard, guitarist Mike Scheuchzer, keyboardist Jim Bryson, bassist Nathan Cochran, drummer Robby Shaffer and six-string newcomer Barry Graul – deliver a multimedia concert experience sure to keep the most ADHD-prone kids engaged. Just under an hour into the set, the band leads into "Homesick"; and Millard breaks down. "I just learned a few hours ago that my uncle died," says the singer from the stage, sobbing heavily.
Have something to say about this article? Leave your comment via Facebook below!
advertise with us
Example: "Gen 1:1" "John 3" "Moses" "trust"
Advanced Search