Christmas with...Michael O'Brien of NewSong
Michael O'Brien

2002

3 Dec

COMMENTS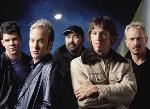 It was 1988, and I was in the middle of falling in love with the woman I soon would marry. 
I was in New Orleans and she was in Texas.  We were in a singing group together, but we were both home for the holidays.  And of course, we were both broke. 
Well, she received money from her grandmother as a gift, and soon after I received some cool clothes from her.  I couldn't believe that she spent it on me. I was hooked after that.  She would be mine.