City on a Hill: A Farewell Gathering
Thom Granger, CCM Magazine
Friday, January 23, 2004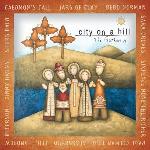 Caedmon's Call
Steve:  Cliff [Young] was part of the original concept for the community approach of the album. Everyone in the group is great at what they do; but more importantly, they all did anything they were asked to do with no ego. Danielle sings all over the albums and came up with great ideas on the spot. They lead worship for their local church, so it's not surprising they were into this the way they were.
Jars of Clay
Steve:  Jars was the only band whose members produced its own cuts, partially because of the guys' schedule and partially due to the fact that they are very protective of their sound. One time we didn't get or even hear their contribution to the album until we were at mastering and their song arrived by courier! But when we had them in the studio — particularly Dan [Haseltine] — he would sing all over the record as long as he was there. Jars is such a great band, and they just get better, especially lyrically, with every album.
Nichole Nordeman
Steve:  Nichole is one of those singers who is so good it is hard to discern, in the control room, if she's ever singing flat or sharp. Her professionalism and obvious talent is so intimidating it's overwhelming, really.
Marc:  When Nichole came in for "Sing Alleluia," we played her "You are Holy" — which my wife, Christine, and Steve wrote. But we also played her "Shine Your Light." She wrote the verses and melody for them and one very cool chord change, which, along with this amazing bridge she wrote, really took it over the top.
Fernando Ortega
Steve:  One great example of the community aspect of "City on a Hill" was how Fernando came to be involved. Mac Powell called me from Atlanta and said, "Hey, I'm with Fernando and love his music so much. Is there any way we can do a song together on the next project?" So Mac wrote the chorus to "Our Great God," and then Fernando, who is in Los Angeles, wrote these verses that are really deep and hymn-like. The result was a true hybrid that neither of them would have come up with on his own.
Sixpence None the Richer/Leigh Nash
Steve:  At the time the first album was recorded, Sixpence was a platinum-selling artist with "Kiss Me" all over the radio; and there is no way I should have been able to have them on the record. I talked to Leigh about writing a song for us, and she was really excited because Matt [Slocum] writes most of the stuff for the band. Leigh called me from a little street café in Belgium and played it ["You're Here"] to me with her guitar over the phone. I then approached Matt, who I enjoyed orchestrating, and asked him if he would write a string arrangement for it. Last but not least, he did a 12-string guitar track on it, too. Then we had to get permission from the powers that be to use it, and that was another story … but in the end, it worked out. Leigh was also kind enough to sing on about five other cuts over the course of the projects, and I just love hearing her voice everywhere.
Jennifer Knapp
Marc:  We had never worked with her before or knew anything about her, but she came in and did a great job on "Hallowed." She came in at two in the afternoon on the day she was with us and said, "I'm here, and I'll do anything you want me to do; but my bus leaves at midnight." You can't ask for more than that. She is the one who asked if Phil Keaggy could play on the track; but when Phil heard her guitar track, he said, "She sounds great on this. What do you need me for?"
Have something to say about this article? Leave your comment via Facebook below!
advertise with us
Example: "Gen 1:1" "John 3" "Moses" "trust"
Advanced Search
Listen to Your Favorite Pastors