Delirious Performs at Harvest Crusade, Debuts Touch
Laura MacCorkle

Senior Editor, Fun Channel

2002

25 Sep

COMMENTS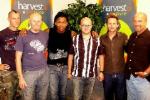 U.K.-based modern worship band Delirious performed recently at North Carolina's 2002 Harvest Crusade, where they previewed songs from their highly anticipated, November 19 release, Touch. 
Evangelist Pastor Greg Laurie of High Point, Calif. was the keynote speaker at the three-day crusade which welcomed churches of all denominations across the Triad area--including Winston-Salem and Greensboro.
"I don't know of any other band that can so effectively combine such 'edgy' music with God-honoring praise and worship," said Laurie of Delirious.   "It is always a privilege to not only work with them, but to just listen to them."
More than 14,000 packed the venue to hear the band known for providing the industry's best live concert experience.  Delirious' performance was also broadcast live on WMIT (106.9 FM) and WTRU (830 AM), in addition to being cybercast live at www.harvest.org.  Other musical guests at the crusade included Tait and Switchfoot.
Touch, Delirious' fifth U.S. studio project, was produced by Chuck Zwicky (Semisonic, Prince).  For more information about Delirious and Touch, visit www.delirious.co.uk.