Four Wall Blackmail - Music Review
Sydney Alexander

Music Reviewer

2002

3 Oct

COMMENTS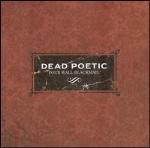 When it comes to popular music, the adage "There's nothing new under the sun" often applies.  But a fresh, lyrical perspective and the effective recycling and reinvention of musical ideas can still provide listeners a plethora of enjoyable audio experiences. 
Enter Ohio-based rock outfit Dead Poetic.  With an intriguing name and even more fascinating lyrical perspective on legalism and modern-day Christianity, the band demonstrates that rock 'n' roll can effectively marry blistering guitar sounds and a wide range of thought.
But what starts out as a highly enjoyable modern rock sound á la Weezer or Jimmy Eat World quickly dissipates when lead singer Brandon Rike begins screaming.  And while a scream or two could effectively add extra emotional depth to a song, the anything-but-enjoyable attack on his vocal chords carries on throughout the disc and is just plain painful to hear.
If Rike hadn't proven he could sing from the very beginning, the non-melodic quality of the screaming may have been all right.  But with Dead Poetic, there seems to be a lot of potential—which would provide a solid and needed contribution to the Christian rock scene.
Used by permission.  CCM Magazine © 2002