"Gotta Serve Somebody" - Music Review
Brian Quincy Newcomb

Music Reviewer

2003

23 Jul

COMMENTS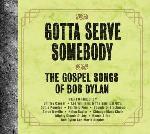 Artists:  Various
Label:  Columbia

The fact that it took 20 years for some of the great voices of gospel music to sing the best songs of Bob Dylan's "Christian-era" albums ("Slow Train Coming" and "Saved") is the only mystery here. Hearing these smokin' renditions brought to life and reinvented by the likes of Shirley Caesar, Aaron Neville, The Fairfield Four, Mighty Clouds of Joy, Helen Baylor and Sounds of Blackness, the only real question is:  What took them so long?

Dylan himself joins Mavis Staples for a playful, reworked bluesy rendition of "Gonna Change My Way of Thinking," including such telling phrases as "Sitting at the welcome table, I'm so hungry I could eat a horse," and "Jesus is coming back/ Coming for His jewels/ We live by the golden rule/ Whoever got the gold rules."

These classics mix spirituality with prophetic social commentary and calls for justice — always with an eye cocked for the revelation of the realm of God. Performed with power and grace by these truly spirited vocalists, the truth and grace of God as the "Solid Rock" lives on.

Used by permission.  CCM Magazine © 2003  Click here to subscribe.