Jars of Clay Take It Out to the Ballgame for Blood:Water
Wendy Lee Nentwig

SongTouch.com

2006

29 Jun

COMMENTS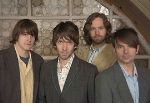 Rockers with a conscience Jars of Clay have always made time for doing good. So while they're busy finalizing their upcoming disc, "Good Monsters," due this fall, they've paused this week to use their music to help others.
As part of the Nashville Sounds' Faith Night series, they guys performed live on the concourse at Greer Stadium prior to the game between the band's hometown minor league team and the Memphis Redbirds. Money was collected during the game and a portion of ticket sales will go to Blood:Water Mission, the non-profit organization started by members of Jars of Clay to promote clean blood and water efforts in Africa.
Faith Night began back in 1999 and has since become a staple at Greer Stadium, regularly featuring Christian concerts, fireworks and personal testimonies by Sounds players. Last season's event saw more than 650 church groups turn out.


© 2006 SongTouch.com.  All rights reserved.  Used with permission.  Shop for gospel music and Christian church music downloads at  SongTouch.com.