Last One Picked - Music Review
Brian Q. Newcomb

Music Reviewer

2002

12 Nov

COMMENTS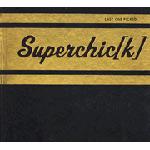 Artist:   Superchic[k]
Label:  inpop Records
Superchic[k]'s follow-up to the winning debut, Karaoke Superstars, is a smart second chapter, continuing the affirming message of "One Girl Revolution."  Bright, accessible modern-pop anthems mix hip-hop moves, guitar rock and sing-along melodies aimed at teens.  The CD is loaded with energy and likeable lyrics that relay self-esteem concerns that tend to dog believers well into midlife.
"High School" and "One and Lonely" deal with the issue of popularity, and "Real" reminds listeners that God loves us the way we are.  Addressing would-be "Barlow Girls" questions, the irresistible "Song for Tricia" advises that some frogs will turn into princes, but kisses are best withheld until the transformation.
The gentle "We All Fall" affirms God's grace as He forgives our failures.  The concept that everyone's a "Hero" when we accept ourselves as God's children is a message youth need to hear again and again, and this sweet pop helps the medicine go down.
Used by permission.  CCM Magazine © 2002
Buy Last One Picked now at www.lifewaystores.com!