MXPX Goes Back to Punk-Pop Beginning on "Panic"
Chris Well, CCM Magazine
Tuesday, September 13, 2005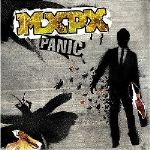 Artist: MXPX
Title: "Panic"
Label: SideOneDummy Records
By design, punk music, in purest form, has its limits. As it rages against the pop culture du jour, it does so in its simple form as much as in its lyrics and posturing. Consequently, a band can only wallow in the form for so long before it either burns out into a heap of ashes or grows and matures into something else (and, some might argue, become the very thing it once raged against).
Somehow, however, punk-pop band MXPX has changed the rules. All of 13 years after the band formed, 11 years after the Tooth & Nail debut "Pokinatcha," seven years after the A&M crossover "Slowly Going the Way of the Buffalo," the members of MXPX – Mike Herrera (vocals, bass), Tom Wisniewski (guitar) and Yuri Ruley (drums) – have circled back to the youthful energy and exuberance of their beginnings with "Panic," the band's first offering from SideOneDummy Records.
Determined to reinvent themselves as, well, themselves, the guys recruited producer Gavin MacKillop (Goo Goo Dolls, Toad the Wet Sprocket) and went into their hometown studio in Bremerton, Wash., taking a mere 22 days to record the 14-track opus. Granted, these are not the same kids who started out in high school; musically, the fire is still there, but the perspective is seasoned with hard-fought wisdom earned from mistakes made and lessons learned.
In the process, "Panic" covers a gamut of emotions and tempos. Despite the occasional awkward rhyme, many of the tracks are worthwhile. The confessional rocker "The Story" struggles with the big questions of life and meaning before pleading, "Can I get a new soul?/ The one I got's been trampled on/ …Can I get a new heart?/ Cause the one I got works way too hard."
"The Darkest Places" shows a firm resolve to make an impact ("I'm shining the light on the darkest places/ You know and I know we have to face this now"). The sweet and romantic (if employmentally irresponsible) "Call in Sick" finds the men asking their wives to skip work and join them on tour. The blistering rave-up "Late Again," which almost sounds like a quartet number rebuilt as a PoMo anthem, declares that they will make it through the Pearly Gates – but they might be a little behind schedule.
Despite the band's beginnings on a faith-based label, one would be hard-pressed to label its work as "Christian" in the narrow market sense. (This is not a qualitative statement, by the way, but simple statement of fact.) However, there is a life behind the eyes here and enough positive energy to make "Panic" a healthy alternative to what many other popular bands are spouting.
Besides, MXPX proves you can go home again. That they can still rock with the best of 'em is all the more rewarding.

© 2005 CCM Magazine. All rights reserved. Used with permission. Click here to subscribe.
Check out the latest MXPX music videos at Godtube.com.
Have something to say about this article? Leave your comment via Facebook below!
advertise with us
Example: "Gen 1:1" "John 3" "Moses" "trust"
Advanced Search
Listen to Your Favorite Pastors