Natalie Grant: Even Better as the Real Thing
Christa Farris, CCM Magazine
Tuesday, April 05, 2005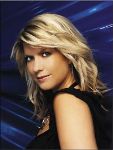 She practically grew up in the church and then established herself as a successful artist known for happy pop anthems that Christian radio listeners can't get enough of. But Natalie Grant's worldview and her approach to life, music and ministry have recently undergone an extreme makeover of sorts. And as Alanis Morrissette famously did in one of her songs, Natalie can also thank India for providing her with this new outlook.
"Comfort zones are plush-lined coffins. When you stay in your plush-lined coffins, you die."
— American missionary Stan Dale
Usually it's criticism or, perhaps, a lack of commercial success that serves as the catalyst for a musician to re-examine his/her artistic motivations. But for singer Natalie Grant, it was actually a compliment from a Christian radio peer that really got her thinking.
"This radio guy said to me, 'Natalie, we can always count on you for the happy, "feel good" songs.' And I know he meant that as a compliment, but I was like, "Is that all I am to you guys — the girl who has all the 'Keep on Shining' songs?" It was then when I thought, 'Thank you, God, for all I've gone through' because without it, I would've never dug deeper," Natalie says. "I would've just been happy to stay on the surface."
While lounging in her favorite overstuffed chair in the living room of the Brentwood, Tenn. home she shares with her husband (and producer), Bernie Herms, Natalie divulges just how her personal and professional comfort zones have been rocked recently like never before. In the same way a girl would dish on her latest crush with her closest friends, there's almost a giddy enthusiasm in Natalie's voice as she discusses the evolution of her music on her new album, "Awaken" (Curb). 
"I must admit that I'm a bit of a late bloomer," Natalie confesses. "I've known Christ since I was 6, but just because you've figured out how to keep yourself out of hell doesn't actually mean that you've figured everything out. You know Christ as your Savior, but you don't know Him as your friend. And it's taken me to this stage in my life to figure out that He's much more than my Savior. He wants this personal, individual relationship with me. He wants authenticity, and so do the people I minister to.
"I am finally comfortable with saying that I don't have all the answers. Sometimes I actually have way more questions than answers. I think I've finally embraced my weaknesses in all of that, and I'm seeing my audience connect in a different way."
The Death of the Perfect Power Ballad
With "Awaken" her audience is also going to hear a new side of Natalie as well, as she's axed the tracks and signature high-note endings in favor of live instruments and a more organic approach.
"I wanted to make sure that if I was going to be raw and honest in my lyrics that the music had that same feeling," Natalie enthuses. And unlike her previous outings, she also wanted to take more ownership in songwriting, too.
"Overall I was very involved in the entire process. I didn't write every song; but at the same time, I feel that every song on the record is from my journey. I didn't just want song pitches and 'the next hit song' this time around. They had to make sense for me to cut because I wanted to approach it honestly."
For Natalie, the process of making "Awaken" was almost like starting her career all over again. "I honestly wish this was my debut. It's a bummer because you only get one chance to make a first impression. But I've fought that my whole career," she recalls. "This time I finally feel like I have material that I hope will speak for itself."
Have something to say about this article? Leave your comment via Facebook below!
advertise with us
Example: "Gen 1:1" "John 3" "Moses" "trust"
Advanced Search
Listen to Your Favorite Pastors