"Perfect Change" - Music Review
David McCreary

Music Reviewer

2004

7 Jan

COMMENTS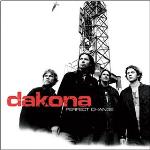 Artist:   Dakona
Label:  Maverick
The true test of whether someone will like Dakona's debut from a musical perspective may lie in his or her opinion of pop rockers Matchbox Twenty. If there ever was a dead ringer for Rob Thomas & Co., it would be Vancouver-based foursome Dakona.
So if you're a fan, you'll appreciate the scruffy vocals of front man Ryan McAllister and the post-alternative melodies supplied by his cohorts.
In some cases, Dakona comes off sounding more like a garage band, rarely breaking away from songs with few hooks. But deep down, it sounds like McAllister has some bravado he's itching to let loose. Just look to the moody intonations of "Beautiful Thing." Hopefully this album points to the band's potential since riff-heavy tracks like "Soul 4 Sale" and "Trust" are enjoyable musical diversions.

© 2003 CCM Magazine.  All rights reserved.  Used with permission.  Click here to subscribe.