Welcome to the Rock 'n' Roll Worship Circus
Christa Farris

Music Reviewer

2002

8 Sep

COMMENTS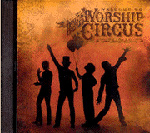 Like people who peruse vintage stores for slightly offbeat clothing selections or the kids not afraid to color outside of the lines in art class, the major label debut from The Rock 'n' Roll Worship Circus re-introduces a band who takes a "left-of-center" approach to making worship music.   And from the opening drum beat on the U2-esque "Loving You" to the contemplative new-wave keyboard strains of the last track "We Sing Glory," there's no doubt they're also having a lot of fun in the process.
Not entirely new to the music scene with three indie discs already to its credit, husband and wife Gabe Wilson and Blurr along with guitarist Solo and drummer Zurn bring a wealth of musical influences to the project.   With a sound that's part power-pop, part '70s rock and often epic in its arrangement, the listener is never sure what to expect next--which is an enviable feat when the musical climate of the past few years has consisted of a plethora of generic pop sounds.
But even beyond the catchy musical soundtrack, the band's primary mission is evident in its lyrics.   With the accessible but poetic style of songs that are currently sung in church services worldwide, the group crafts joyful songs that direct praise to God and also provide a new soundtrack that can be enjoyed by youth groups and rock 'n' roll fans alike.