Christians Will Cringe at The Preachers of L.A.
Sophia Lee, WORLD News Service
Monday, December 09, 2013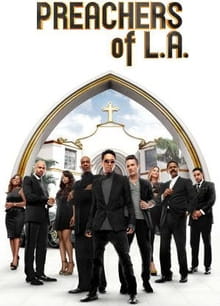 (WNS)--Who drives in gleaming Bentleys, struts in waxed Italian shoes, leads an entourage of butlers and chauffeurs, and performs to a weeping, enraptured audience? If you're thinking movie stars, you're not too far away from the truth.
Six mega-pastors in Southern California star in the new Oxygen reality show The Preachers of L.A. They claim to live for God, His people, and His kingdom. But halfway into an episode, it becomes clear that they are the gods—though they sure do love the people for their adoration, and they've built a nice earthly kingdom for themselves. One preacher even has a guy who irons his shirts.
Reality television shows have been lapping up such colorful Christian characters. This year saw the debut of various new reality shows that revolve around Christian (particularly clergy) families, such as Preachers of L.A., Bravo TV's Thicker Than Water, BET's The Sheards, and National Geographic Channel's Snake Salvation and Church Rescue. The surprise popularity of A&E's Duck Dynasty enlightened networks and producers to the fact that they may have been neglecting a key demographic in America: the Christians.
Craig Detweiler, who teaches film studies at Pepperdine University and has a doctorate in theology and culture, said reality TV has "evolved to entire programs built around aiming squarely at the Christian subculture." Compare that to 10 years ago, when you might see one contestant from the Bible Belt added to the cast "in the effort to get a broad sampling of the population."
But here's the question: Should pastors, pastors' wives, and churches mix with a TV genre that is known for its over-the-top characters, scandalous fodder, and misrepresented facts?
Kevin Annas from Church Rescue told me he found his reality show's network producers through another reality TV star, who informed him there's a new "vibe" in Hollywood: "He had been hearing that networks there are interested to get introduced to the religious community, but without being sacrilegious or making light of any particular ministry."
That fits right into the business mission of Annas and his two business partners (Anthony Lockhart and Jerry Bentley), all of whom served as church pastors. They own a consulting company, called Church Hoppers, which helps struggling churches balance three components: business, marketing, and systems.
"But what if the problem is theological?" I asked. In the first episode, the Church Hoppers visited a Bapticostal (Baptist Pentecostals) church. The service was four hours of writhing, weeping, tongue-speaking, and falling congregants, mostly women.
"We're not going to go in and try to change their theology," said Bentley, and he repeated their church business model. He then added, "I think churches are there in the community to meet the community's needs." The Church Hoppers want to help churches give "customers" what they want. They're savvy entrepreneurs, with a Christian label to appeal to a certain TV trend.
The Preachers of L.A., meanwhile, will burn the eyes of some Christians with the church leaders' gleam, bling, and hypocrisies. One pastor, Bishop Ron Gibson of Life Church of God in Christ, roars during his sermon, "You've seen my bling. You've seen my Bentley. You've seen my glory, but you haven't seen my story."
His story: a gangbanger and drug addict-turned-minister, now living in a huge house with multiple luxury cars. Gibson visits his hometown in Compton to minister to other gangbangers "like Jesus goes back to Nazareth." Somehow, he sees no irony in swashbuckling into an impoverished community in a flashy red convertible, all blinged out in gold accessories.
Have something to say about this article? Leave your comment via Facebook below!
advertise with us
Example: "Gen 1:1" "John 3" "Moses" "trust"
Advanced Search
Listen to Your Favorite Pastors