Steven Curtis Chapman – The Joy is Back
Lori Hatcher, Author
Monday, November 11, 2013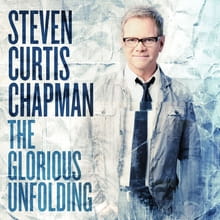 When Christian singer/songwriter Steven Curtis Chapman's 5-year-old daughter Maria was killed in a tragic accident five years ago, he wondered if he would ever sing again.
"There's not a greater pain than to be a parent and watch your child suffer," he says, "and then, the only deeper place to walk through is losing a child, and being separated from that child." Chapman and his wife, Mary Beth, have experienced both of these heartbreaks: the car that accidentally struck and killed their youngest daughter was driven by their second son, Will. "We watched our son suffer, and we watched our family and our other children experience that loss. We watched them grieve, and we watched them hurt, and then also to have the loss of our child. (The pain) goes so deep in so many directions."
As Chapman and his family moved through the dark days following Maria's death, he wondered if it would ever be appropriate to make music that was joyful, happy, and fun. Instead, he sought solace in the familiar, recording an exclusive project for Cracker Barrel that he'd always wanted to do—a collection of hymns and old songs with a bluegrass twist. Playing music he'd grown up with as the son of a guitar teacher in Pedukah, Kentucky, gave Chapman a way to express his grief, pain, and loss. It also reminded him of what he believed.
Losing Maria "didn't change what I knew to be true," the 50-year-old Chapman says. "It just took it to a much greater depth of certainty and confidence." Before, he explains, when he'd stand in front of a crowd and share his faith, he wondered if his words had credibility. "Now," he says, "I understand far more deeply what it means to say, 'God is faithful.' To be able to say, 'We have this hope, and it is our anchor.' It's one thing to say that in a real stiff breeze," he continues. "It's another thing to say it when a hurricane hits."
Had his musical career ended with the life of his youngest daughter, he would have retired with more musical accomplishments than most performers achieve in a lifetime. A professional musician since 1987, Chapman has sold more than ten million records, recorded 17 projects, including two RIAA certified platinum albums and eight RIAA certified gold albums. Along with his five Grammy® awards and 16 nominations, Chapman has won an American Music Award, recorded 47 No. 1 US radio hits, and received 57 Dove Awards, more than any other artist to date.
But God wouldn't let the music die. "We've learned the difference between moving on and moving forward," Chapman says. He and his family are now far enough along in the grieving and healing process to have gained a perspective they didn't have in the early days. "We've moved forward, and continue to, but we'll never move on from the fact that we've lost a child, and we grieve that."
But slowly, Chapman began to realize, "There's a story unfolding. It involves some really difficult, painful, and hard chapters, but also some incredibly amazing ones." In all of this, he says, "God is unfolding and unveiling an incredible plan for our lives that won't be fully revealed until Heaven, until we're home." Being able to explore this truth in music has brought meaning and purpose to his family. "By God's grace," he says, "we have not only survived to this point, we have experienced incredible healing."
Chapman chronicles his family's journey in his latest musical project, The Glorious Unfolding. Each song on the album describes a chapter in the incredible story God is revealing to him. "Little bit by little bit," Chapman says with certainty, "God is finishing what he starts. Philippians 1:6 says, 'He who began a good work in you will be faithful to complete it.' This project celebrates how God is completing his work."
Have something to say about this article? Leave your comment via Facebook below!
advertise with us
Example: "Gen 1:1" "John 3" "Moses" "trust"
Advanced Search
Listen to Your Favorite Pastors